In 2022, Evolution debuted the live dealer casino game Monopoly Big Baller. It's a distinctive live casino bingo game that resembles a hybrid of Live Monopoly and Mega Ball games. The game offers a fresh take on live casino bingo and is playable on both desktop and mobile devices.
This is another in a line of innovative Evolution live casino games, with a captivating base game and amazing bonus rounds displayed in augmented reality. In today's article, we'll be bringing you a comprehensive review of the Monopoly Big Baller live casino games. (Please note, this is not a how-to-play guide).
---
*Terms and conditions apply.*
---
Monopoly Big Baller Game Details
| | | | |
| --- | --- | --- | --- |
| GAME NAME: | Monopoly Big Baller | BET RANGE: | £0.10 - £2,000 |
| GAME PROVIDER: | Evolution Gaming | SPECIAL BETS: | No |
| LIVE HOST: | Yes | SUPPORTED PLATFORMS: | Mobile Phone, Tablet, PC |
| RTP: | 96.10% | SUPPORTED OS: | Android, Apple, Windows |
Monopoly Big Baller Gameplay Feels like a Bingo Live Show
Though this isn't a how-to-play guide, it is helpful for our Monopoly Big Baller review to explore how the gameplay of this live game works. Firstly, players purchase tickets for Monopoly Big Baller much like regular player-versus-casino bingo. Only four cards can be purchased per round. 
The cards given display a 5x5 grid. A sizable ball drum that will label balls with numbers will be controlled by the presenter. In Monopoly Big Baller, the objective is for the drum to produce numbers that match those on your card(s). You succeed if you are able to match a line of five digits exactly as they appear on your card. The reward increases as the number of lines on a single card increases. 
In this way, it is clear to see the heavy influence that Bingo has on the Monopoly Big Baller gameplay, and it's certainly a smart move on Evolution's part to create a title that opens up the possibility of live casino games to bingo fans, instead of focusing on the more commonly catered to slots or table games community.
Monopoly Big Baller Features: What Makes it Special?
The gameplay of Monopoly Big Ball certainly leans heavily towards the bingo theme, but it's during the bonus features that the Monopoly element shines through (outside of the general theming). The AR Monopoly board seen in Monopoly Live makes a return in Monopoly Big Baller. You are placed on the renowned Monopoly game board during the Monopoly Big Baller bonus round. It begins after the final round of the main game. Like Monopoly, it's played with two dice. Your movement around the Monopoly board is determined by the outcome of the dice throw. It goes without saying that 3 Rolls give you three chances to roll the dice while earning bonuses and rewards each time with 5 rolls awarding 5. Every time the dice produce a double result, players are given a free re-roll.
The board for Evolution Big Baller Monopoly is the same as the standard one. All properties, however, come with a multiplier. You receive a multiplier to the stake you used on the Bonus card every time you step onto one of these properties. Additionally, certain properties have houses and hotels attached at random, which raises their multiplier.
Every time you step on one of these multipliers, another is added. On the board, there are a few other specific areas of note:
Chance and Community Chest both have the potential to arbitrarily boost or decrease the multiplier you have already accumulated.

You enter the jail area by landing on Go to Jail. To exit, you must roll a double result. Any awards you received prior to (or subsequent to) entering prison are still valid.

10% of the bonus round winnings are deducted for income taxes.

The super tax subtracts 20% from gains.

All the prizes on the board are doubled when you pass Go.
The Bonus round concludes after all of the rolls have been used.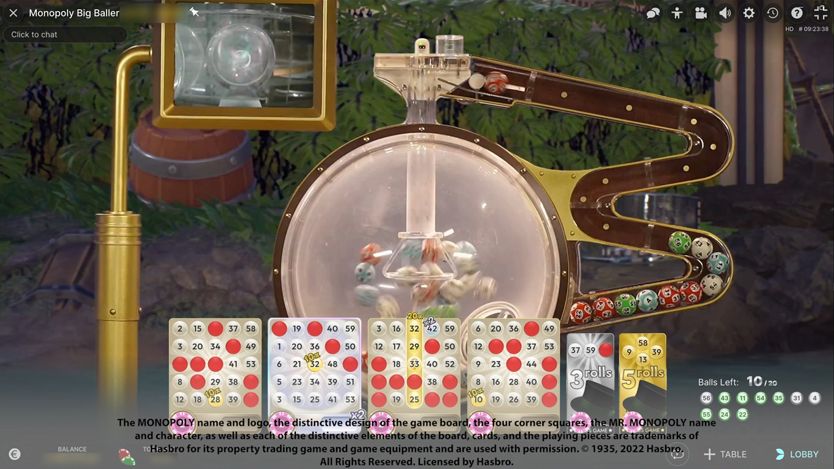 Monopoly Big Baller Payouts: What to Expect
A complete Monopoly Big Baller paytable, such as it is, may be found below. In essence, a simple line in the game triumphs 2:1. Multipliers on the card might increase these prizes even more.
It goes without saying that Chance cards with guaranteed multipliers have a higher chance of paying out more. In terms of Monopoly Big Baller's maximum payout, they also have a greater ceiling. Free Space cards, however, provide statistically more consistently positive results. 
Free Space card: 2-39:1 per line

Chance card: 2-199:1 per line

3 Rolls: Bonus game kicks off with 3 rolls

5 Rolls: Bonus game kicks off with 5 rolls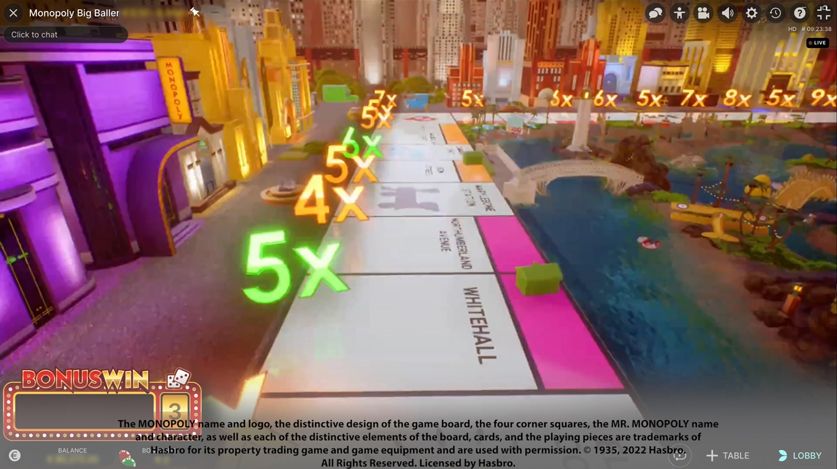 Keep in mind that the information above is only applicable to the main game. The bonus monopoly board round's reward structure is more intricate and very unpredictable. The maximum payoff in Monopoly Big Baller is 100,000x, although theoretically, it might go even higher. But getting there will be challenging.
The RTP for Evolution Monopoly Big Baller is 96.10%, according to the official data. Most competing live casino bingo-style games are left in the dust by this.

How Does Monopoly Big Baller Compare To Its Predecessors?
Monopoly Big Baller could be considered the love child of Monopoly LIVE and Mega Ball, and elements of both games can be seen within this release. In regards to the base gameplay, Monopoly Big Ballerleans heavily towards the gameplay seen in Mega Ball, and this definitely feels like a game that bingo fans will love. When it comes to the theme and the bonus round, however, elements loved from Monopoly LIVE certainly come to the fore such as the AR gameboard. Put simply, when comparing Monopoly Big Baller to its Evolution Gaming predecessors, Monopoly Big Baller seems to offer the best of both worlds. 
Play Monopoly Big Baller on Lord Ping
Monopoly Big Baller is a unique live game that celebrates the best elements from previous Evolution Gaming releases. With some great bingo-inspired gameplay, this game can work as a great bridge for Bingo fans looking to try live casino games, and live casino fans looking to explore the bingo genre. If you'd like to play the Monopoly Big Baller live game, then sign up and play today at Lord Ping.