While Evolution Gaming's Lightning series and live game shows like Crazy Time and Funky Time are certainly the most well-known live games in their repertoire, there are still some other fantastic gems to explore. One such game is Crazy Coin Flip which we will be reviewing in today's article. Please note this isn't a how-to-play guide and for this information you can check out our dedicated game page. With all that said, let's share our thoughts on Evolution's Crazy Coin Flip.
---
*Terms and conditions apply.*
---
Crazy Coin Flip Game Details
| | | | |
| --- | --- | --- | --- |
| GAME NAME: | Crazy Coin Flip | BET RANGE: | £0.10 - £3000 |
| GAME PROVIDER: | Evolution Gaming | SPECIAL BETS: | No |
| LIVE HOST: | Yes | SUPPORTED PLATFORMS: | Mobile Phone, Tablet, PC |
| RTP: | 96.05% | SUPPORTED OS: | Android, Apple, Windows |
A Closer Look at Crazy Coin Flip Gameplay
Crazy Coin Flip is a very unique title, and new players might find it a little confusing at first, it took us a few tries to get our head around it! But don't worry, as always Evolution's expert live dealers are on hand to guide the gameplay process!
The greatest RNG slots and live games are combined in Crazy Coin Flip in a wholly original and ground-breaking format never seen before. Essentially, the game's goal is to gather three scatter symbols during the qualification stage in order to enter the live bonus game. The three game phases of Crazy Coin Flip are the qualifying slot, the time-sensitive Top-Up slot, and the entertainment-guaranteed live Coin Flip bonus round.
To enter the live game in the qualification slot, you must collect three scatter symbols. These symbols sporadically include multipliers that you use during the Top-Up phase. After qualifying, you move on to the against-the-clock Top-Up stage where you can increase the multipliers. A three-reel, three-row slot machine with red and blue coin symbols that each have a multiplier value is featured in this phase. 
More multipliers are generated on both sides of the coin in the Coin Flip bonus round with a live game host, and these multipliers, together with the multipliers from the qualifying and Top-Up slot rounds, will go towards your overall winnings.
When the game host pulls the lever to flip the coin to decide whether it will land on its red or blue side, the frenzy begins.  Whatever the outcome, you will be compensated in accordance with the multiplier on the side of the winning coin.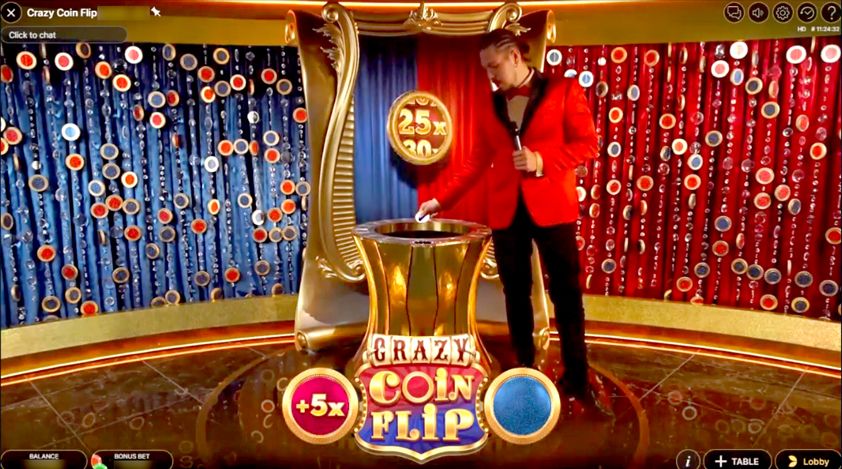 What Are The Crazy Coin Flip Features?
Aside from the unique gameplay which certainly makes it stand out from the crowd, Crazy Coin flip is also graced with Evolution Gaming's top-notch presentation quality and features a vibrant carnival theme with all the pizzazz that Evolution is known for. You will be drawn to the game by the visuals (high-quality streams) and appealing music. The expert host is dressed for the occasion and will encourage and guide you through Crazy Coin Flips unique gameplay. You can anticipate three phases with this title, each of which has a chance to award rewards and unique extras. In the qualification phase, players will encounter seven standard symbols, and landing three to five of the same sort on one of the 10 paylines will award a cash win.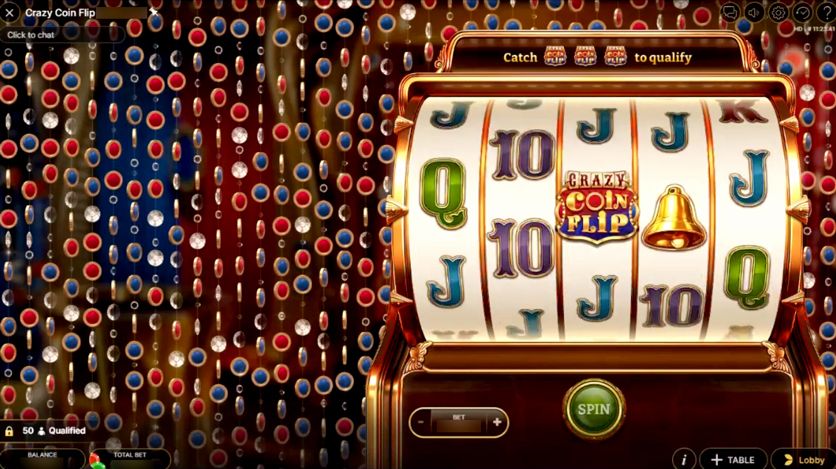 What Are the Crazy Coin Flip Payouts?
All payouts in Crazy Coin Flip are determined by the wager made on the 5-reel slot machine to be eligible for the coin flip bonus. You can win more money if you wager more.
A random win multiplier, ranging from 5x to 100x, will be applied to each side of the coin once you have won the bonus. This implies that if you placed a £10 bet to qualify, you could win between £50 and $1,000.
However, a potential multiplier that you might receive during the qualification spins will also be doubled by this random win multiplier. This eligibility multiplier can be between x0 and x30. In a perfect world, you would achieve x30. As a result, the 5x–100x random win multiplier would suddenly be worth 30 times as much. Alternatively, 150x–3,000x. Now, a £10 wager may result in payouts of £1,500 to £30,000.
Win multipliers obtained from the optional top-up round will also be added, in addition to this. For instance, regardless of which side of the coin wins, if you choose to play the top-up round and are successful in collecting an additional 100x win multiplier, you will receive an additional £1,000 on your initial £10 wager.  
Overall, the game has the potential to pay out 3,000 times what you wager and another around 2,000 times if you use the top-up option to its fullest. The overall RTP for Crazy Coin Flip is 96.05%.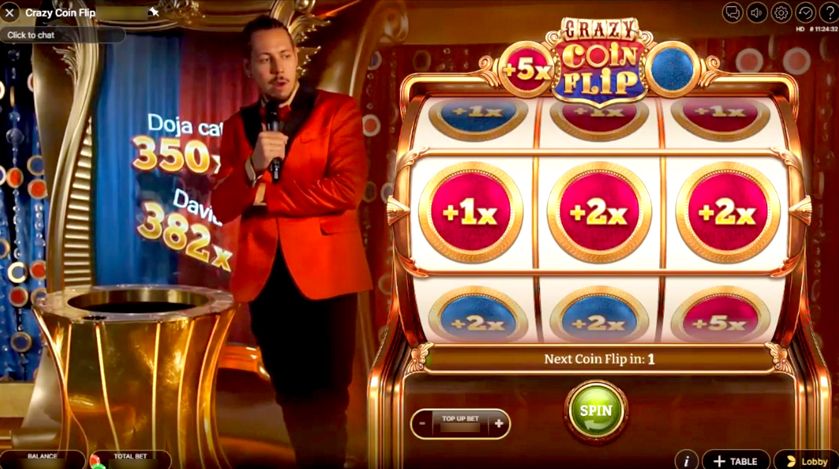 Enjoy Other Games Like  Crazy Coin Flip 
If you already love Crazy Coin Flip or the gameplay of this game has made you curious about other similar titles, then we recommend the following games:
Play Crazy Coin Flip on Lord Ping
If our review has caught your attention then you'll be happy to know that you can play Crazy Coin Flip on any device of your choosing 24/7 here at Lord Ping. Sign up and play today.