Live casino games have always attempted to mimic the atmosphere of physical casinos. Because of this, actual humans rather than some faceless machine act as tellers. Nevertheless, it's obvious that certain games take this issue more seriously than others. In order to impress, Evolution Gaming went above and beyond with Immersive Roulette. In order to maximise the advantages of their excellent video quality, the developers deploy a variety of camera angles in this instance. 
What is Immersive Roulette you might ask? Put simply, it is to create the closest experience to a real-world casino, streamed to the comfort of your own home. Despite the apparent emphasis on eye-catching aesthetics, the gameplay is identical to that of a typical European roulette wheel. Existing lovers of the genre can play this release right away without any additional knowledge required.
In today's article, we'll be taking a deep dive into Immersive Roulette's gameplay. Please note, however, this isn't a how-to-play guide. 
---
*Terms and conditions apply.*
---
Immersive Roulette Live Game Details
| | | | |
| --- | --- | --- | --- |
| GAME NAME: | Immersive Roulette | BET RANGE: | £0.50 - £5,000 |
| GAME PROVIDER: | Evolution Gaming | SPECIAL BETS: | Yes |
| LIVE HOST: | Yes | SUPPORTED PLATFORMS: | Mobile Phone, Tablet, PC |
| RTP: | 97.30% | SUPPORTED OS: | Android, Apple, Windows |
Immersive Roulette Live Gameplay: What Can You Expect As a Player?
The Immersive Live Roulette Casino game is presided over by a host or teller, who guides proceedings, keeping the pace timely, and closely mimicking the experience you'd expect in a brick-and-mortar casino. All this is streamed to your device at high-definition quality to greatly increase the immersive factor. 
The 37-pocket wheel used in immersive roulette is compliant with European roulette regulations. There is one green zero and 36 red and black digits on it. Our understanding of the betting board is greatly enhanced by the excellent user interface. You can easily see every number, its colour, and the available bets on it. 
To show how much time is left, the timer uses a traffic light's colour scheme. While yellow indicates that you should move quickly, green indicates that you have plenty of time. The betting period is over when the timer stops and the betting board is lowered. The action will be broadcast to you in beautiful HD quality as the wheel spins.
Do the Immersive Roulette Live Features Add to the Immersion?
The small optimisations Evolution Gaming provides us are a big part of what makes Immersive Roulette a fantastic game to play. The favourite and special bets section allows you to preserve a favourite wager that you frequently place. Finales a Cheval and Finale EnPlein wagers can also be made using this option. The statistics page, undo, double, and live chat are further possibilities. 
While many players look for additional features when playing casino games online when you play Immersive Roulette it's actually perfect that there aren't any (outside of a stream-lined UI), because this closely mimics the experience of real-world roulette. After all, unexpected additional features such as multipliers and bonus rounds while completely fitting in other live games, would completely ruin the immersion that Evolution Gaming has worked so hard to create.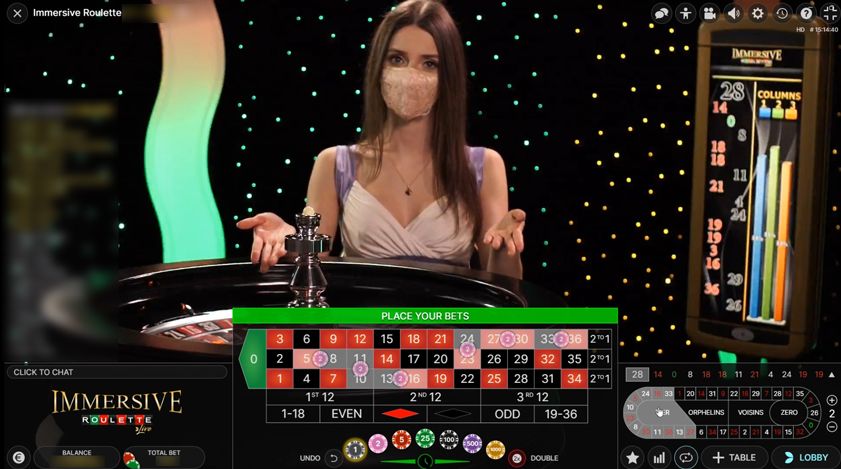 What Immersive Roulette Live Payouts Can I Expect?
Inside wagers (corner, line, street, split, and straight up) and outside wagers (column, dozen, odd/even, high/low, and red/black) are both options. It is also possible to place a neighbour bet, but you can only do so by utilising the racecourse in the bottom right corner. This contains bets like Voisins du Zero, JeuZero, Orphelins a Cheval, and Tiers du Cylindre. 
A straight-up wager with a 35:1 payout gives the greatest chance of winning. Other inside wagers have the following payouts: a split pays 17:1, a street pays 11:1, a corner pays 8:1, and a line pays 5:1. Columns and a dozen pay 2:1 on outside bets, however, red/black, even/odd, and high/low only pay 1:1. Immersive Roulette has a 97.30% RTP.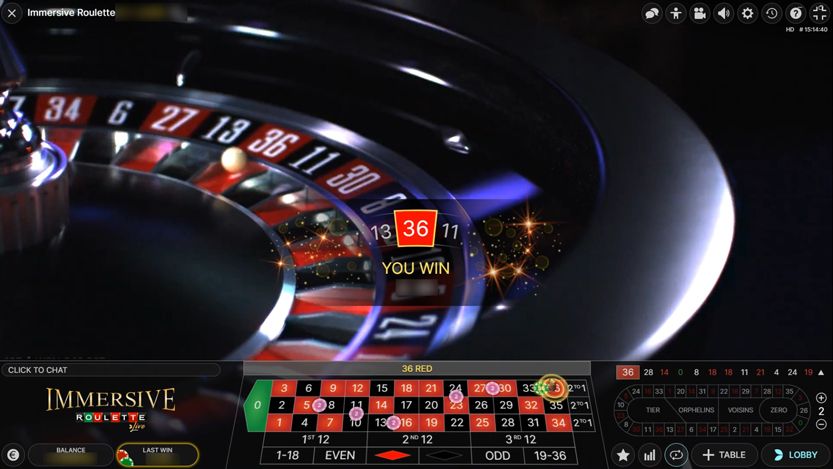 Immersive Roulette vs. Instant Roulette
The biggest difference between Immersive Roulette and Instant Roulette is the pace. In Immersive Roulette, players have to follow the pace created by Evolution Gaming and have their wagers ready to go by the time the reels start spinning. Instant Roulette on the other hand allows players to enter their wager whenever they like and will then assign the wheel that is closest to finishing. Both live games have spectacular visual aesthetics and streaming quality, but Immersive Roulette has a host/teller, while Instant Roulette does not. 
Lord Ping Recommendations
Of course, Lord Ping offers a variety of live roulette games in addition to Instant Roulette. There are games like Lightning Roulette and XXXTreme Lightning Roulette to enjoy if Immersive Roulette isn't quite your style. If they don't satisfy your craving for live roulette, you might also want to try Mega Fire Blaze Roulette and Instant Roulette too.
Play Immersive Roulette on Lord Ping
Immersive Roulette truly is the closest a player can get to playing roulette in a casino outside of physically visiting one. Streamed effortlessly to your device, Immersive Roulette is simple and easy to follow and is suited to both newcomers and more established players. If you'd like to play Immersive Roulette sign up and play today at Lord Ping.