Live Super Sic Bo by Evolution was introduced in 2016. With a minimum bet of £0.20 and a maximum stake of £2,500, it boasts an RTP of 92.13%. The game adds some spice to the formula of the best live Sic Bo games and is playable on both desktop and mobile devices. Evolution enjoys adding a straightforward innovation—multipliers—to conventional casino games. It might appear simple, but it actually works; just take a look at the entire Lightning series. Despite not being a part of that series, the multiplier mechanics in this game are quite comparable. In this review of the video game Super Sic Bo, we'll examine how everything works together. Please note, however, that this isn't a how-to-play guide. Read along to learn more about Sper Sic Bo, one of our most beloved live casino games in Lord Ping.
---
*Terms and conditions apply.*
---
Super Sic Bo Game Details
| | | | |
| --- | --- | --- | --- |
| GAME NAME: | Super Sic Bo | BET RANGE: | £0.20 - £2,500 |
| GAME PROVIDER: | Evolution Gaming | SPECIAL BETS: | Yes |
| LIVE HOST: | Yes | SUPPORTED PLATFORMS: | Mobile Phone, Tablet, PC |
| RTP: | 92.13% | SUPPORTED OS: | Android, Apple, Windows |
Is the Super Sic Bo Gameplay Actually Super?
The ancient Asian dice game of Sic Bo has been given a brand-new twist in Evolution's Super Sic Bo. The game's fundamental premise is the same. There are several bets and combination bets available when three dice are rolled. Because of this, playing Sic Bo is already a fascinating experience but Evolution has added a number of random multipliers to make it even more lucrative and entertaining. The win multipliers of up to 1000x that are randomly given to various betting positions on the board are only available to select betting groups. The multipliers for such spots are also capped. 
Of course, the overall gameplay experience of Super Sic Bo is underpinned by Evolution Gaming's typical high production quality. Even the simple act of rolling the dice has been given that Evolution flair with three red dice enclosed in a glass dome. When its time to roll the dome vibrates thus shuffling the dice in not only a highly performative way but a fair one too.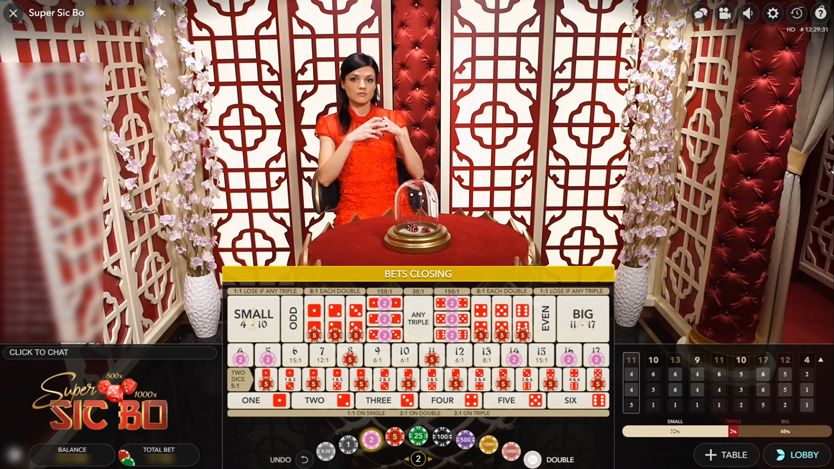 What Super Sic Bo Features Can You Expect?
Unlike some of Evolution's other releases which feature multiple bonus rounds and additional elements, Super Sic Bo keeps things really simple and places the focus on the different types of wagers that can be made. The acceptable bets for the Super Sic Bo game are as follows: 
Small bets that the dice will only total 10 while Big bets that the dice will total 11 or higher. These pay even money, however, a Triple result means that the wager is lost regardless of the total.
Another even money wager is even/odd, which predicts whether the sum of the three dice will be odd or even. This will also lose in the result of a triple outcome.
Choose a number between 4 and 17 for the total. You succeed if the final outcome matches your forecast. The likelihood of the outcome affects payouts.
Single are bets that between 1 and 6 will appear on one of the dice. The payoff is raised if the results of two or three dice are the same number.
The probability that at least two dice will display the same number is known as a double guess. You may place a bet on a double 2 or double 4, for example. Even if the outcome is a triple, payouts stay the same.
Triple merely foretells a triple outcome—triple 2, triple 6, and so forth. This option offers higher payout rates because it has far smaller odds of occurring. If the outcome is a triple, regardless of the roll of the dice, Any Triple wins.

A combination bet consists of 15 possible outcomes. The combination forecasts a certain 2-die combination. An example might be a 2-4 or a 3-5.
Aside from the different types of wagers, the features of Super Sic Bo revolve around the quality of the gameplay experience. All the essential bases are covered by the fundamental features and UI components. You can alter the display language of the game as well as the video and audio quality. A lot of information is covered in the help screen, from the fundamental Super Sic Bo rules to Super Sic Bo tips. 
Only one Super Sic Bo table is available but is manned 24/7, and is hosted in English. The display language of the game can be altered using the settings menu, though. Only the various UI elements are impacted by this. English, Albanian, Bulgarian, Chinese, Croatian, Czech, Danish, Estonian, French, German, Hebrew, Italian, Japanese, Korean, Latvian, Lithuanian, Portuguese, Romanian, Russian, Serbian, Slovak, Spanish, Swedish, Thai, and Turkish are among the available options.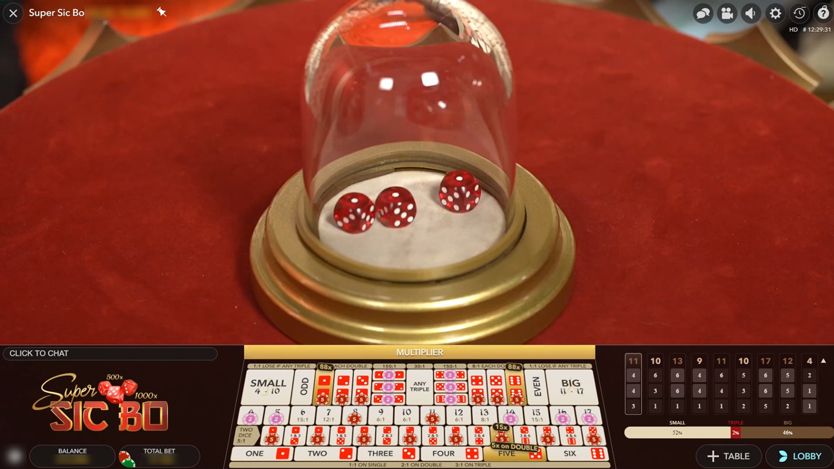 Super Sic Bo Payouts, Plus Multipliers
Because there are so many different wagering options, the Super Sic Bo paytable is extensive. Add in the multipliers which can be added to gameplay and you have quite a bit of reading on your hands. To help you out we've compiled all of the necessary information into two straightforward tables:
| | |
| --- | --- |
| Bet | Payout |
| Small/Big | 1:1 |
| Even/Odds | 1:1 |
| Double | 8:1 |
| Triple | 150:1 |
| Any Triple | 30:1 |
| Total 4 or 17 | 50:1 |
| Total 5 or 16 | 20:1 |
| Total 7 or 14 | 12:1 |
| Total 8 or 13 | 8:1 |
| Total 9 or12 | 6:1 |
| Total 10 or 11 | 6:1 |
| Combination | 5:1 |
| Single | 1:1, 2:1 if Double result, 3:1 if Triple |
The potential multiplier payouts are as follows:
| | |
| --- | --- |
| Bet | Maximum Payout /w Multiplier |
| Small/Big | 1:1 |
| Even/Odds | 1:1 |
| Double | 87:1 |
| Triple | 999:1 |
| Any Triple | 87:1 |
| Total 4 or 17 | 499:1 |
| Total 5 or 16 | 249:1 |
| Total 6 or 15 | 87:1 |
| Total 7 or 14 | 29:1 |
| Total 8 or 13 | 24:1 |
| Total 9 or 12 | 49:1 |
| Total 10 or 11 | 24:1 |
| Combination | 24:1 |
| Single | 1:1, 19:1 if Double result, 87:1 if Triple |

Super Sic Bo vs. Bac Bo 
Both the intriguing dice games Sic bo and Bac bo have their own distinct rules and characteristics. Sic bo is a Chinese dice game that uses three dice as its main tools. Bets are placed on a variety of potential outcomes of dice rolls, including individual numbers, combinations, and the sum of all the dice. The goal of the game is to properly forecast these outcomes, which makes it fast-paced and probability-based.
On the other hand, Bac Bo uses four dice and is comparable to a dice-based variation of Baccarat. Sic bo and this game both include dice, but they play very differently. In Bac bo, participants often wager on the results of the four dice, hoping to guess which one will produce the biggest total. To learn more about Bac Bo please explore our blog New Way To Play Baccarat: Bac Bo Live Game
Play Super Sic Bo on Lord Ping
If you'd like to try out Super Sic Bo for yourself, then sign up and play today at Lord Ping. Good luck, have fun, and always gamble responsibly.