---
Io takes you into space for a chance to win stellar cash prizes and discover innovative features! ELK Studios' slot looks amazing and includes Avalanche wins, Laser symbols, Charged Wilds, and so much more. 
Welcome to Lordping's blog, where we regularly delve deep into the most popular slots on the market. In our Io slot review, you'll find essential details on its gameplay, prizes, bonuses, and more!
Io Slot Details and Features
Io is a six-reel, four-row slot, but you may double the number of rows and play with eight during the course of the game. The ways to win increase as the grid expands, too, rising from 4,096 to 262,144!
Io is a space-themed slot with a fun backstory: a casino space station is travelling through the cosmos when Jupiter's powerful gravity draws it towards one of its biggest moons, Io. 
That's a great starting point for a slot, and ELK Studios' talented team has done it justice. Every visual aspect of Io is impressive, from the moon slowly rotating in the background, surrounded by hundreds of stars, to the colourful variety of symbols. 
The sound is terrific, too, with futuristic synth music and computerised voice snippets enriching the atmosphere. 
Game Symbols 
The standard symbols in ELK Studios' Io casino slot are fairly simple, but still have a futuristic style that suits the theme. 
The 7 symbol pays up to 10x your bet, followed by the Diamond, which is worth up to 2.40x. The Clover symbol awards a top prize of 1.20x, while the Star pays up to 0.90x. 
Land the Ace, King, Queen, or Jack to win up to 0.30x your bet. There are various bonus symbols in the Io slot UK, too, which we'll cover later in our Io online slot review. 
RTP
The Io mobile slot has an RTP of 96%. You can bet between 0.20 and 100 per spin.
How To Play Io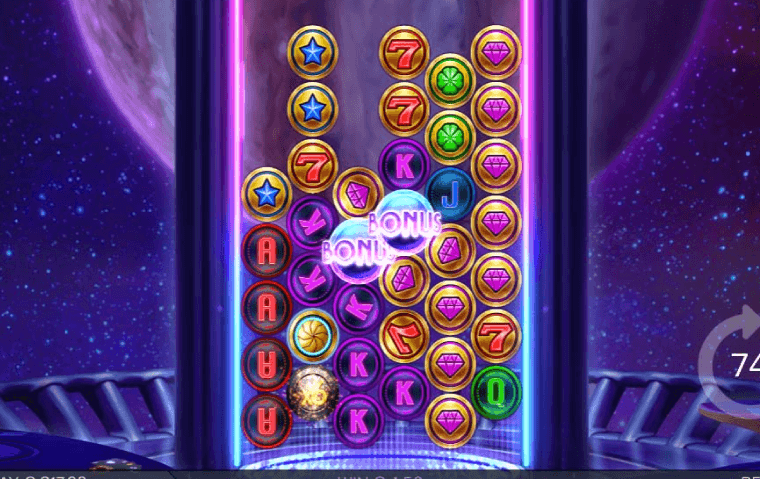 Ready to play Io slot? It's easy! 
You may want to set up your stake before you start spinning the reels. Tap the 'coins' icon in the bottom-left corner to open the bet setup menu, then choose your preferred wager. 
Next, use the 'spin' button to get started. Press the 'menu' button in the top-left corner to access the paytable and general rules at any time between spins. 
Io Slot Bonus Features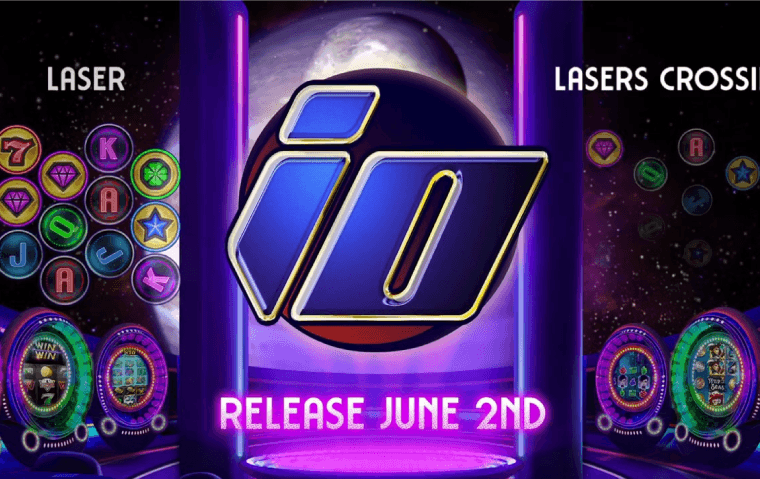 Wild Symbol
The Wild symbol can substitute for all other standard symbols, and a winning combination made up entirely of Wilds pays as the most valuable symbol.
Bonus Symbol
Three or more Bonus Scatters will trigger the Bonus Game, which revolves around free drops. 
Avalanche 
Any symbols that contribute to a win (apart from Charged Wilds) vanish from the screen, leaving space for other symbols to replace them. An extra row of symbols will appear at the top of the screen, with a maximum of eight rows available. 
With the Avalanche feature, you can land win after win on just one spin — creating the potential to scoop bigger prizes within a short period of time! The Avalanches will keep running until you can't create any new winning combinations. 
Charged Wild
A Charged Wild symbol contains four extra lives, and spends one of them whenever it forms part of a winning combination. Charged Wilds also substitute for all standard symbols. 
Wild Forge
Wild Forge symbols fill empty positions underneath multiplier Wilds, and the multiplier's value grows whenever Wild Forge is used. When a Wild Forge drops to the bottom, it will become a multiplier Wild. 
Laser Feature
If beams emanating from two Laser symbols intersect, the Laser symbols and any standard symbols that appear along those beams will become Wild. One Laser and the standard symbols along its beam will be removed. 
Bonus Game
The game screen expands to eight rows when you trigger the Bonus Game. Between free drops, Wild Forge and Charged Wild symbols accumulate at the bottom of the game grid.
Review Summary of Io Online Slot 
Feel inspired to try ELK Studios' space epic after reading our Io slot machine review? We liked it, and we sure you will too! The concept is original, the variety of features is remarkable, and there are more than 262,000 potential ways to win thanks to the Avalanche feature. So, blast off and play Io at Lordping now!