---
Win up to 1,000x your bet in Wazdan's Joker Poker, a dynamic take on the classic card game! Create 10 winning hands, including Four of a Kind, Straight, and Five of a Kind, to pick up generous prizes. And you could double any win with the Gamble feature, too! 
Welcome to Lordping's blog. Here, you'll find plenty of in-depth reviews of our most popular games — including Joker Poker. Read our Joker Poker slot review below to find out more about Wazdan's game!
Joker Poker Slot Details and Features
Joker Poker is an online poker game with exciting graphics and simple gameplay. A joker wearing a colourful cap 'n' bells takes up the top-right corner of the screen, beaming out at you with a grin and a wink. A celebratory animation will bring him to life when you create a winning hand, though.
The stylish blue background is decorated with card suit symbols (e.g. spades, clubs), and the cards are dealt onto a green mat resembling a standard card table. Fun music plays in the background, too. 
Game Symbols 
There are 10 winning hands in the Joker Poker casino slot, and the payout for each is shown on the top half of the screen. 
Score a Two Pair to win 2x your bet, while Three of a Kind will award 4x. The Straight, Flush, and Full House offer 8x, 10x, and 13x your bet, respectively. 
The Four of a Kind is worth 50x, and the Straight Flush pays 200x. The Five of a Kind awards 500x, the Wild Royal Flush pays 800x, and the Royal Flush offers the top payout — 1,000x your bet!
You can play the Gamble feature on any win during the base game. We'll cover this later in our Joker Poker online slot review. 
RTP
Wazdan's Joker Poker slot UK has a 96.07% RTP. You can wager between 0.20 and 100 per spin.
How To Play Joker Poker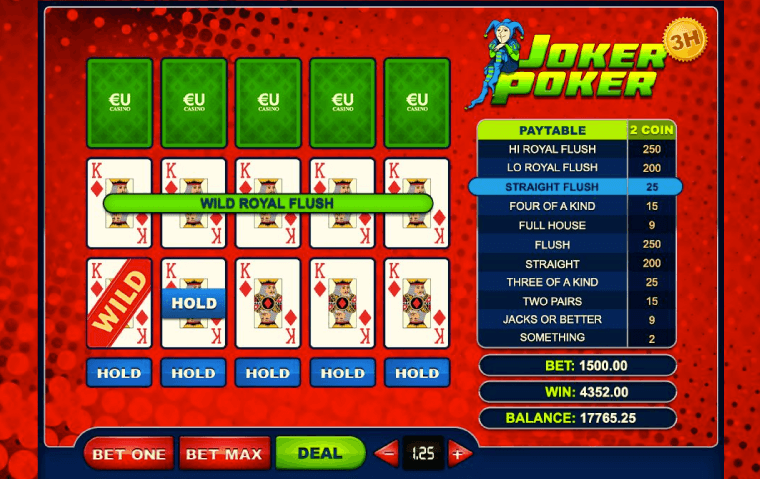 You should find Joker Poker easy to pick up and play if you're a fan of poker or video poker. The aim is to create one of several classic winning hands, such as a Full House or Straight Flush. 
Joker Poker uses a deck containing every card from the 2 to the Ace, with one Joker. When you press the 'spin' button, a set of five cards will be drawn and displayed on the bottom half of the screen. Create one of the hands specified on the top half of the screen to win the corresponding prize! 
Certain cards will become locked between spins, which may help you form winning hands, but you can unlock them with a simple click. 
If you want to change your stake at any time during the base game, click on one of the bet amounts at the bottom of the screen. You can scroll to the lowest and highest bets available with the '-' and '+' buttons. 
Press the '?' button to open the help section. This contains the game rules, payout values, and play instructions. 
Joker Poker Slot Bonus Features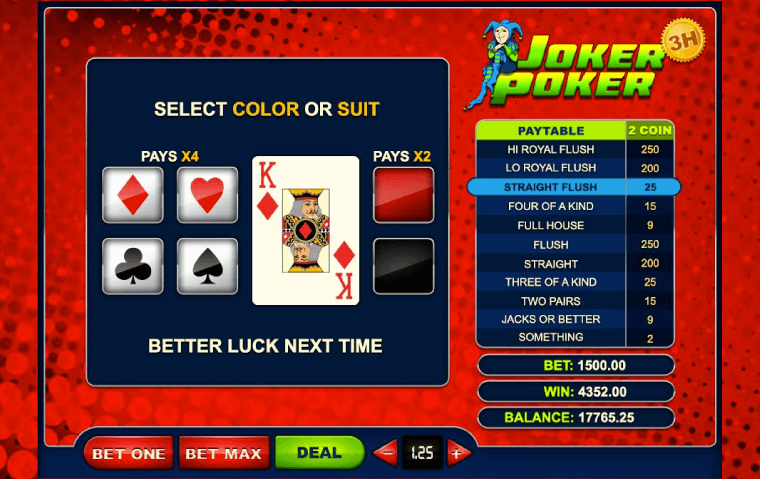 Wild Symbol
The Joker can substitute for any other card in the Joker Poker mobile slot. 
Gamble Feature
The Gamble feature becomes available whenever you win and offers a chance to double your prize. Press the red button featuring an 'x2' and two stacks of coins to play the Gamble feature, or use the red button with a dollar sign on a hand to claim your win instead. 
During the Gamble feature, you'll be presented with a playing card. Press the 'red' or 'black' button to predict which colour the card will be when it's revealed. 
Get it right and Joker Poker doubles your initial win! You can keep playing through another six rounds if you want to. But if you get it wrong, you'll go back to the base game without your prize. 
Review Summary of Joker Poker Online Slot 
While writing our Joker Poker slot machine review, we have been impressed by Wazdan's work. The game is fast-paced, easy to play, offers great prizes, and includes a simple Gamble feature that could double any win! Joker Poker is even accessible to players with no knowledge or experience of poker, too. So, if you want to give it a try, play Joker Poker slot at Lordping today!