These days, wheel-based speciality live games are becoming more and more popular. Leading company Playtech has decided to throw its hat in the ring with the 2020 title Adventures Beyond Wonderland.
Playtech's Adventures Beyond Wonderland is a live dealer casino game that resembles a game show and places a strong emphasis on entertainment. It is based on the same-named slot machine game that was first published in 2017. Despite its thematic inspirations, this product is a wholly original Playtech offering. Please note, that the following article serves as a review and not a how-to-play guide, but you can view this type of information on the game page in our live casino games section.
Adventures Beyond Wonderland Game Details
| | | | |
| --- | --- | --- | --- |
| GAME NAME: | Adventures Beyond Wonderland | BET RANGE: | £0.10 - £1,000 |
| GAME PROVIDER: | Playtech Live | SPECIAL BETS: | Yes |
| LIVE HOST: | Yes | SUPPORTED PLATFORMS: | Mobile Phone, Tablet, PC |
| RTP: | 96.58%-96.82% | SUPPORTED OS: | Android, Apple, Windows |
What is the Adventures Beyond Wonderland Gameplay Experience Like?
The Adventures Beyond Wonderland live casino game takes place in a dedicated studio. When you play Adventures Beyond Wonderland online, a sense of grandiose spectacle will be your first impression. The wheel, presenters, and set are all highly stylized in homage to the well-known book by Lewis Caroll. Additionally, the presentation is strengthened by the occasional appearance of CGI characters like the White Rabbit. In general, the game serves as evidence of the advancements made in streaming technology. It's safe to assume that it sets a higher standard for future live casino gaming programmes.
The Mega Wheel and the previously mentioned Dream Catcher live casino games have a very similar core concept. To keep things exciting, this game distinguishes itself to a tonne of original mechanics. This gives players additional options and ways to play Adventures Beyond Wonderland which we'll explore in the features section of our Adventures Beyond Wonderland review.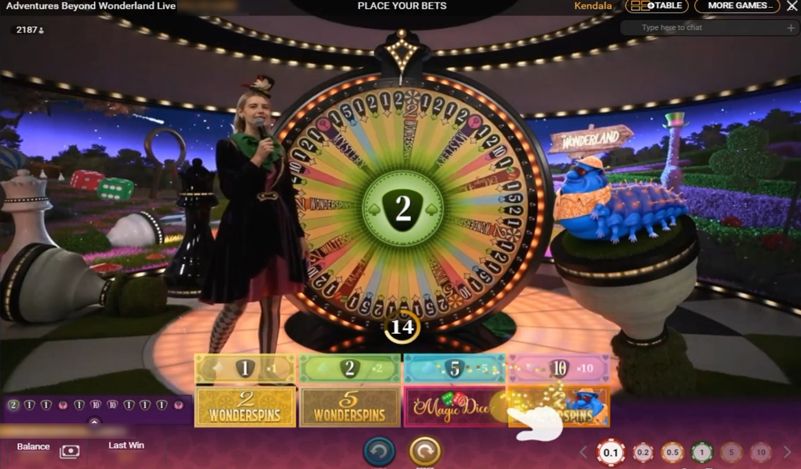 What Are the Adventures Beyond Wonderland Features?
A variety of exciting bonus rounds are available in Adventures Beyond Wonderland Live, which boost excitement and chances of winning. Players can earn additional rewards in the bonus rounds by utilising a variety of elements. These consist of Magic Dice, Mystery Bonus Spins, and WonderSpins, which give out 2 or 5 spins. Players can win the Card Soldiers or the Caterpillar Mystery Multiplier during the Mystery Bonus Spins.
Here are some further specifics regarding the fascinating bonus rounds that Adventures Beyond Wonderland offers: 
Wonderspins
Famous figures from Alice in Wonderland, including the Queen of Hearts, the Mad Hatter, the White Rabbit, Door Mouse, DoDo, and the Cheshire Cat, are spun on separate reels by an animated White Rabbit during the WonderSpins. This function awards additional multipliers to fortunate gamers. 
Magic Dice
Six columns and four rows make up the game board on which the Magic Dice bonus round is played. The board has a number of components, including move-up arrows, multipliers on their own, and multipliers arranged throughout the board in various fields. 
A player selects a red or white die, which is then automatically shaken to roll. The goal is to roll the dice carefully in order to ascend the board and land on top to earn the 100x multiplier.
Mystery Bonus Spins
The March of the Card Soldiers or the Caterpillar Mystery Bubble will be launched at random by Mystery Bonus Spins. There are some fantastic multipliers available to players in both of these games.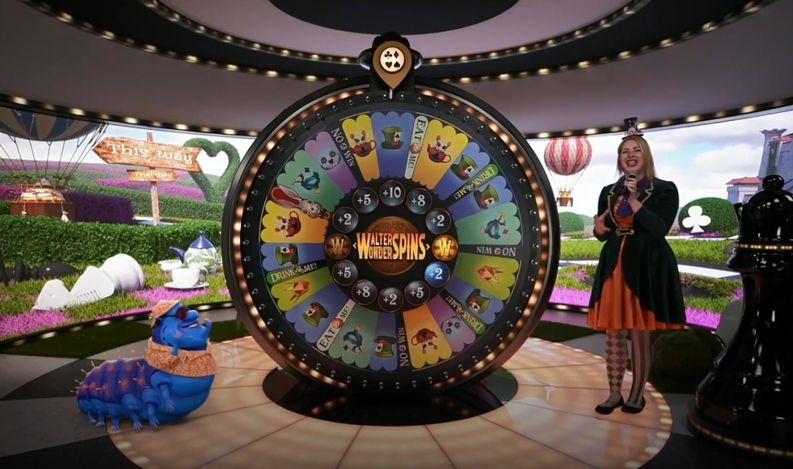 What Are The Adventures Beyond Wonderland Payouts?
Predicting which number the wheel will fall on is the main gameplay mechanic, much like in other games in the genre. A total of seven alternatives are available on the first wheel: 1, 2, 5, 10, Magic Dice, 2 Wonderspins, and 5 Wonderspins. There are also two mystery segments on the wheel that don't need to be wagered on.
The easiest wager you can place is on the numbers. Just select a number to wager on, and your stake will be multiplied by that same number if the wheel falls on it. It is evident that the larger numerals are displayed on fewer wheel segments. This is a summary of every accepted Adventures Beyond Wonderland wager, along with the likelihood of winning.
Number 1 (Yellow Segment) has 22 spaces and awards a payout of 1:1 and has a 40.74% likelihood.
Number 2 (Green Segment) has 15 spaces and awards a payout of 2:1 and has a 27.77% likelihood. 
Number 5 (Blue Segment) has 5 spaces and awards a payout of 5:1 and has a 9.25% likelihood. 9.25%
Number 10 (Pink Segment) has 4 spaces and awards a payout of 10:1 and has a 7.40% likelihood. 
2 Wonderspins has an orange segment and awards payouts of up to 100x. There are 3 spaces on the wheel for this and has a 5.55% likelihood.
5 Wonderspins has a purple segment and awards payouts of up to 250x. There's 1 space on the wheel for this, and it has a 1.85% likelihood.
Magic Dice has a red segment and can award up to 250x with 2 spaces on the wheel. This outcome has a 3.70% likelihood.
Mystery Spins awards an undisclosed payout and has 2 purple segments on the wheel. Its likelihood is 3.70%.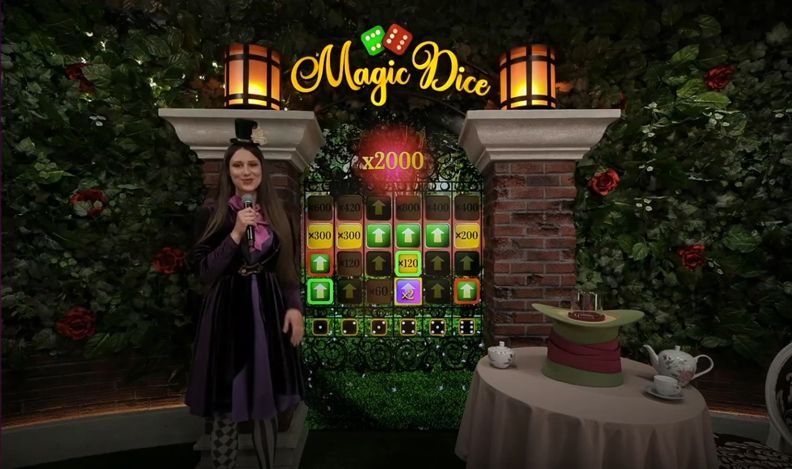 Money Wheel Games Like Adventures Beyond Wonderland
As mentioned, Adventures Beyond Wonderland isn't the only live Big Wheel casino game out there. Probably the two most popular in this genre are Crazy Time and Funky Time from Evolution Gaming which similarly to Adventures Beyond Wonderland both offer multiple bonus round options, with the latter having a 70s disco theme. Sweet Bonanza Candyland is a Pragmatic Play live game which is inspired by a popular sweets-themed slot game of a similar name and also boasts multiple features. Playtech is the creator behind another big wheel live game called Money Drop Live which is inspired by the popular TV gameshow of the same name. Lastly, for a more simplified experience without bonus games, players could check out another Pragmatic Play offering called Megawheel, which includes multipliers in its gameplay. 
Play Adventures Beyond Wonderland on Lord Ping
Adventures Beyond Wonderland is an immersive and engaging themed live casino game which fans of the tale of Alice in Wonderland are sure to love. If you'd like to try out the Adventures Beyond Wonderland game for yourself, or any of the games mentioned in our review, sign up and play today at Lord Ping.