Online live dealer blackjack game Lightning Blackjack Live by Evolution was released in 2021. With a £1 minimum and £5,000 maximum bet, it boasts an RTP of 98.94%. The game offers a top-notch live blackjack game with multipliers and is accessible on both desktop and mobile devices.
The crown gem of the industry titan is perhaps the Lightning series of Evolution live casino games. It's time for Blackjack to catch up to the original Lightning Roulette, which completely changed live roulette. This Lightning Blackjack game review will provide you a thorough analysis of Evolution's top offering (please note, this a not a how-to-play guide).
---
*Terms and conditions apply.*
---
Lightning Blackjack Game Details
| | | | |
| --- | --- | --- | --- |
| GAME NAME: | Lightning Blackjack | BET RANGE: | £1.00 - £5,000 |
| GAME PROVIDER: | Evolution Gaming | SPECIAL BETS: | No |
| LIVE HOST: | Yes | SUPPORTED PLATFORMS: | Mobile Phone, Tablet, PC |
| RTP: | 98.94% | SUPPORTED OS: | Android, Apple, Windows |
What is the Lightning Blackjack Gameplay Experience Like?
This game's basic gameplay is the same as that found in all live dealer blackjack games. The player's objective is to draw as many cards as they can without going over 21. All cards contribute to the necessary 21 and most offer the score as their face value. But all cards with a value of 10 or higher count as a 10, while aces can only be worth one or eleven. Both splitting and doubling are permitted.
Evolution's Lightning Blackjack operates similarly to a standard 21-draw variation. This implies that everyone has access to the same hand. The dealer will continue to draw until the player reaches the age of 21, even if you choose to stand. Only those players who selected to Hit will be able to use these new cards. By utilizing this type of gameplay, Lightning Blackjack is able to offer an unlimited number of seats to players.  
Visually, Lightning Roulette has the same appearance as other titles in the 'Lightning' game series, with a flashy-looking studio with a dynamic black and gold colour scheme.
Are the Lightning Blackjack Features Electrifying?
The major draw of Evolution Lightning Blackjack is still its bonus multipliers. You'll start out playing conventional live casino blackjack when you initially launch the game. Each stake, however, carries a 100% lightning fee. Depending on the winning hand, a random multiplier between 2x and 25x will be given to you if you win the hand. For instance, winning hands with 18 might have a multiplier allocated of 5, while winning hands with 21 might have a multiplier assigned of up to 12x.
In the following round you play, any wins are multiplied by this factor. The multiplied amount won't grow if the stakes are raised in between the two rounds, though. Essentially, the amount multiplied—not the current stake—is the Lightning cost you paid.
Lightning Blackjack is streamed in HD 24/7 and because an unlimited number of players can join the table, only one stream is ever running. All games of Lightning Blackjack are hosted in English, the Evolution interface does, however, provide you the option to switch the language of the user interface to English, Albanian, Bulgarian, Chinese, Croatian, Czech, Estonian, French, German, Hebrew, Italian, Japanese, Polish, Portuguese, Romanian, Russian, Serbian, Slovak, Spanish, Swedish, Thai, Turkish, or Vietnamese.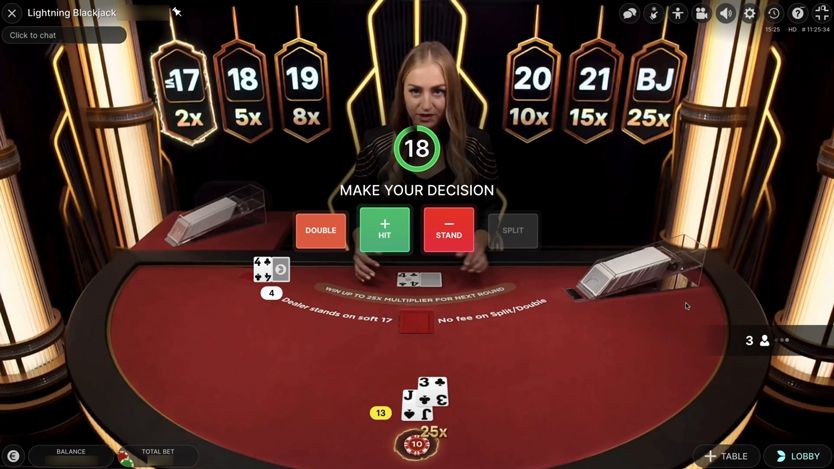 What are the Lightning Blackjack Payouts?
The multipliers are not given away, as the previous Lightning live casino games have shown us. That holds true for how Lightning Blackjack payments operate as well. To pay for the Lightning Blackjack cost, every ordinary bet is practically doubled. This effectively means that a typical winning hand loses everything. However, it offers a 2–25x multiplier that will be applied to any victories in the subsequent round.
The Lightning Blackjack paytable is quite conventional except for this.
Bet

Payout

Evolution Lightning Blackjack Payouts

Winning Hand

1:1

Blackjack

3:2

Multiplier

2-25x

Insurance

2:1
The RTP for Lightning Blackjack is still pretty impressive, which is wonderful news. By the standards of live dealer blackjack, let alone in comparison to other casino games, 99.56% is excellent.  Naturally, the 0.44% low house edge for Lightning Blackjack assumes you're playing well and that the shoe is new.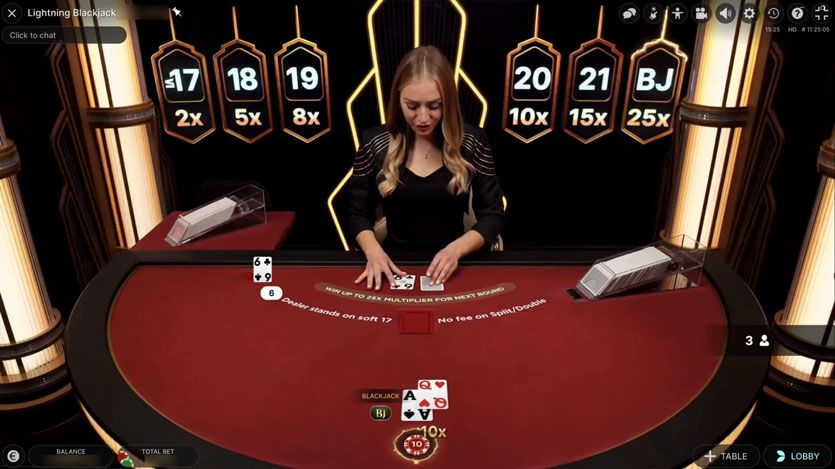 Other Games Like Lightning Blackjack 
Lightning Blackjack is just one of the many games in Evolutions' iconic 'Lightning' live game series. Some of the other top titles in this series include:
Lightning Baccarat: This variant of Baccarat adds exciting Lightning multipliers to the original Baccarat game.
Lightning Roulette: This was the first Lightning game that Evolution created and is their take on roulette.
XXXTreme Lightning Roulette: This is the extreme version of Lightning Roulette that gives players the chance for larger payouts with higher volatility too.
Lightning Dice: This is a simple dice game similar to SicBo which has been given the Lightning Roulette treatment.
Play Lightning Blackjack on Lord Ping
If you'd like to give Lightning Blackjack a try for yourself, or any other of the top games from Evolutions Lightning series, then sign up and play today at Lord Ping.