Evolution's live dealer casino game, Live Craps, was launched in 2020. It has a £0.50 minimum and a £1,000 maximum bet, and it has an RTP of 99.17%. One of the few live dealer craps games available online, the game can be played on desktop or mobile devices.
Craps became an instant smash hit, as expected from the decades that online gambling enthusiasts had been waiting for a means to play the game live online. We'll examine how Evolution Live Craps operates in more detail in this review. Please note this review will not cover how to play Live Craps but you can find this information within the Evolution Live Craps game page under our live casino games tab.
Craps Live Game Details
| | | | |
| --- | --- | --- | --- |
| GAME NAME: | Craps Live | BET RANGE: | £0.50 - £2,500 |
| GAME PROVIDER: | Evolution Gaming | SPECIAL BETS: | Yes |
| LIVE HOST: | Yes | SUPPORTED PLATFORMS: | Mobile Phone, Tablet, PC |
| RTP: | 99.17% | SUPPORTED OS: | Android, Apple, Windows |
The Craps Live Gameplay Experience
Reps for Evolution stated that maintaining the classic qualities of the long-standing casino game was the primary objective. This is evident in the studio itself, which was created to resemble a speakeasy from the 1920s. In terms of casinos, it doesn't get much more "classic" than that.
Nevertheless, mastering the communal aspect of craps play was the most significant problem they needed to solve. At this point, the interactive conversation element should go without saying, but there's also an "Applause" button. Every player uses the same table. Similar to live craps in Vegas, if one player wins, the entire table wins.
A robotic arm has taken over the role of the Shooter, who used to roll the dice and toss them onto the table. You are essentially given the job of Shooter when you play at the table. For betting reasons, each participant takes the same role even though the game is multi-player.
The craps dice must be loaded into the mechanical arm by the Dealer, who oversees the game.
The user interface has been designed to maximise the gaming experience for both novices and experts. You can easily browse between the different types of bets with the help of a good variety of options, and there are some excellent tutorials that offer helpful pointers throughout the game.
Though some of the payouts have changed from what you might be accustomed to, the most popular features and bets are still available at the table.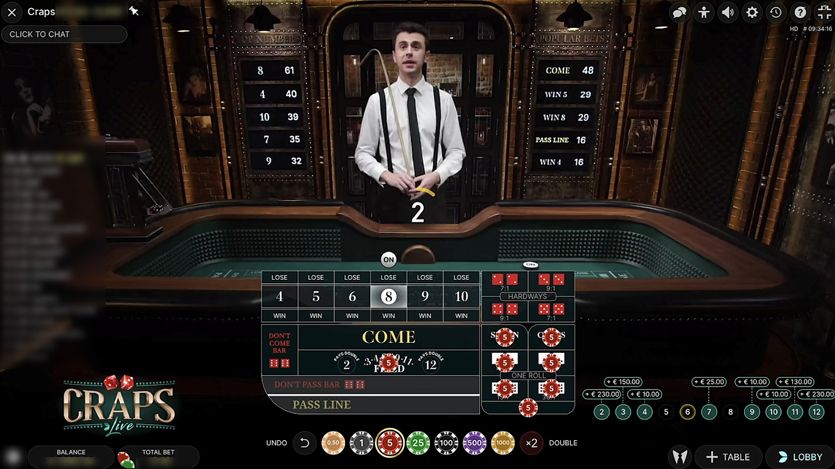 What Are The Craps Live Features?
Evolution didn't really need to add anything more because the original game is so complicated and doing so would only make things more confusing.
Therefore, the numerous tutorials and guides are the most helpful Live Craps features. For what it is, the help page in the upper right corner is rather extensive. It provides thorough guidelines for playing Evolution Craps, an understanding of the game's fundamental principles, and even some Craps Live advice.
Another useful feature is the My Numbers option located in the lower right corner. In essence, the function shows you all the possible results of the dice roll and how they impact your stake every time you put a wager. This is particularly useful for bets such as Lay Odds and Come/Don't Come.
By selecting the "Craps Menu" button, you can access the two additional options that are located below that. If they win, the first, formerly known as Live Craps Dealer Assist, will continue placing the identical wagers. You will be directed to an interactive craps table that explains every roll, wager, and result if you choose to "Learn Craps."
There's only one Live Craps feed available, and it's in English. In addition, the user interface, manual, and guide are significantly more intricate than those found in most Evolution live dealer games. Even when there are multilingual localised versions, certain functionality could be more restricted than others. For example, the entire interactive guide is limited to major languages like Italian or Spanish.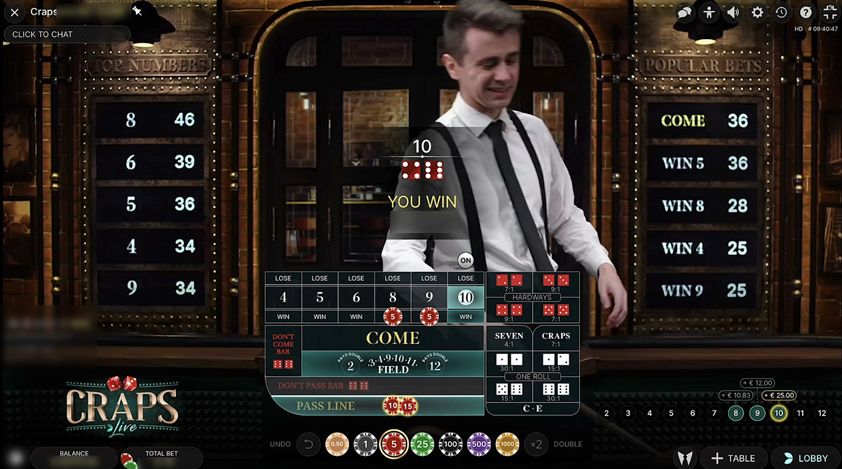 Craps Live Payouts Information
A game of Craps offers a plethora of potential bets and results, as you may have noted. However, the rewards for Craps Live by Evolution deviate slightly from the traditional game. There is a lot of ground to cover as a result but we've tried to keep things brief in a bulleted format below: 
Pass Line/Don't Pass: Pays 1:1 
Come/Don't Come: Pays 1:1 
(Take Odds) 4 or 10: Pays 2:1
(Take Odds) 5 or 9: Pays 3:2
(Take Odds) 6 or 8: Pays 6:5
(Lay Odds) 4 or 10: Pays 1:2 
(Lay Odds) 5 or 9: Pays 2:3
(Lay Odds) 6 or 8: Pays 6:5 
Place to Win 4 or 10: Pays 9:5
Place to Win 5 or 9: Pays 7:5
Place to Win 6 or 8: Pays 7:6
Place to Lose 4 or 10: Pays 5:11
Place to Lose 5 or 9: Pays 5:8
Place to Lose 6 or 8: Pays 4:5
Field 3, 4, 9, 10 or 11: Pays 1:1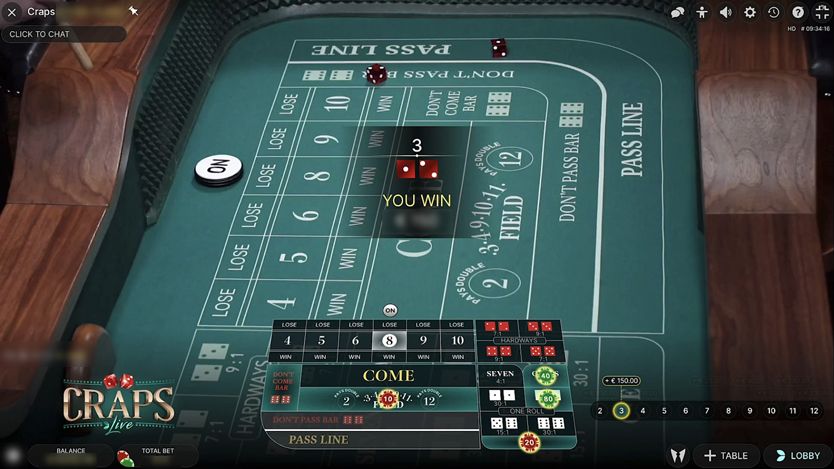 More Exciting Live Dice Games to Play at Lord Ping 
While live dice games are one of the smallest niches of casino live games, there are still a few great titles to try such as Lightning Dice from Evolution which combines exciting dice gameplay with their iconic 'Lightning' multipliers innovation. Players can also enjoy Super Sic Bo from Evolution and the more experimental Sic Bo and Baccarat fusion called Bac Bo.
Play Craps Live on Lord Ping
Craps Live is an exciting new take on the old-school game of Craps. If you're a fan of dice games, why not give Craps Live a go, or play any of the other exciting dice-based games on our list? Sign up and play today at Lord Ping to discover more.