Instant Roulette is an auto-roulette game from Evolution Gaming. In front of the player, they'll see there are a total of twelve wheels instead of the typical one. Additionally, though it is live, there are no dealers. Each wheel controls its own spinning independently. The adjacent wheel is preparing to stop as the first one comes to a complete stop. That means a wheel is always prepared to produce outcomes which is how Instant Roulette got its name. In today's article, we'll be reviewing this game (please note this is not a 'how to play guide), so without further ado, let's take a closer look and Evolution Gaming's Instant Roulette Live. 
---
*Terms and conditions apply.*
---
Instant Roulette Live Game Details
| | | | |
| --- | --- | --- | --- |
| GAME NAME: | Instant Roulette Live | BET RANGE: | £0.50 - £5,000 |
| GAME PROVIDER: | Evolution Gaming | SPECIAL BETS: | Yes |
| LIVE HOST: | Yes | SUPPORTED PLATFORMS: | Mobile Phone, Tablet, PC |
| RTP: | 97.30% | SUPPORTED OS: | Android, Apple, Windows |
Instant Roulette Live Gameplay: What Can You Expect?
If you've played a live casino game by Evolution before, you may be expecting to load Instant Roulette and be greeted by an amiable and experienced dealer. However, this is not the case, as Instant Roulette has no dealer with all camera angles focussed on the 12 roulette wheels that spin on their own. Because the wheels have been synchronised to start coming to a stop as the previous reel has finished, Instant Roulette offers players a streamlined gaming experience with little to no wait time, and instead constant roulette action. 
There is no timeframe in this release of live casino roulette, in contrast to most others. You can take as much time as you want to set up your wager, just as in a roulette game using a random number generator. Simply click the Play Now button when you are ready to begin. The roulette table that is closest to finishing its spin will be chosen by the game.
Instant Roulette Live Features: What Rules Does it Follow?
The actual Instant Roulette wheels are single-zero, conventional European Roulette wheels. There are no significant additions, such as multipliers or additional gameplay components. Having stated that you can make some special wagers. You can always place Tier, Orphelins, Voising and Zero bets on the racetrack. There are also neighbour stakes available. Using the plus and minus buttons next to the racetrack, you can adjust how many numbers are covered by each one.
The Favourite Bets menu is also available to you. You can save a wager that you particularly like in your favourites. From there, all you have to do to appreciate it once more is click or tap on it the following time! Special bets like Finale En Plain, Finales A Cheval, and complete bets are also available on the same menu.
The last feature of note is the high-quality experience that Evolution has carefully curated. The Roulette wheels are displayed in what looks like a luxurious gentleman's lounge which perfectly sets the scene. All tables are clearly numbers for easy viewing too. Evolution streams all its live games in high definition, so you feel close to the action, and there are numerous camera angles to choose from to customise your experience.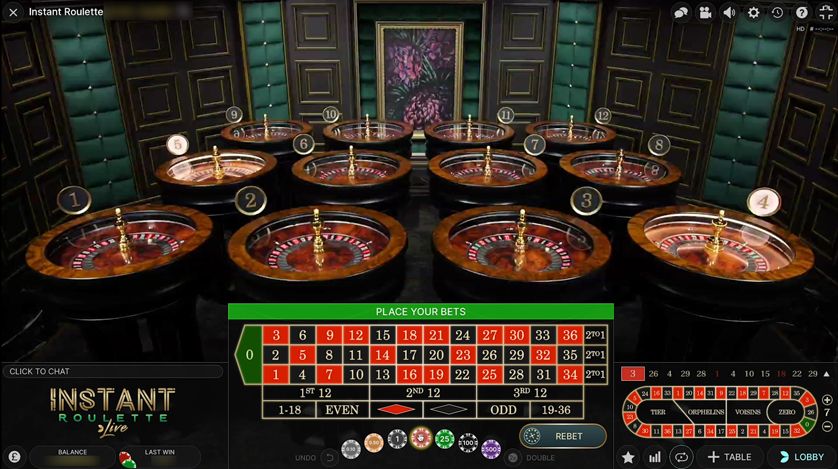 Instant Roulette Live Payouts: Do They Differ From the Norm?
Instant Roulette has an estimated 97.30% RTP and 35 to 1 maximum payout. The sort of wager you made will determine how much you get paid. Inside and outer stakes are the two different kinds of wagers. Outside stakes pay less because they cover more numbers. They commonly appear in roulette betting strategies since they are more conservative selections. Red/Black, Even/Odd, and High/Low all pay 1:1. Bets on columns and dozen pay 2:1.
Inside wagers, on the other hand, carry a higher level of risk but also provide a bigger return. The wager pays higher when it covers fewer numbers. The payout ratios you can expect for Inside wagers are as follows:
Line – 5:1

Corner – 8:1

Street – 11:1

Split – 17:1

Straight Up – 35:1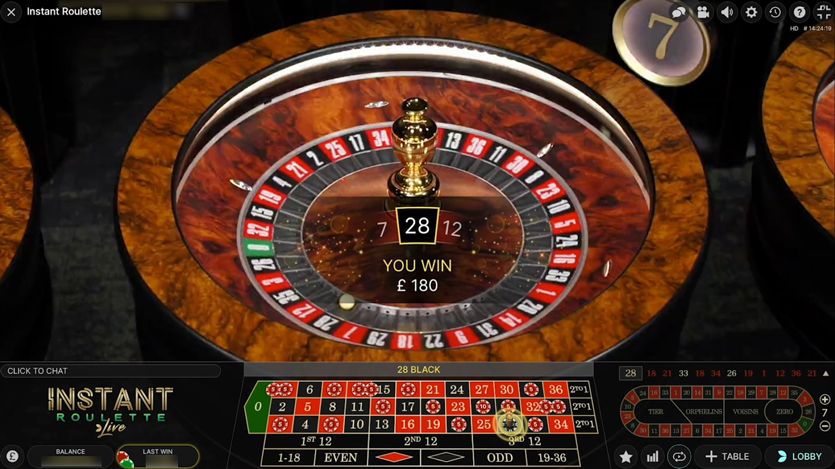 How is Instant Roulette Different from Standard Roulette?
The main difference between Instant Roulette and Standard Roulette is the amount of control that players can exert on their gameplay experience. Because there are no time limits to configuring wagers, as is seen in standard roulette where groups of players are waiting on the spin of one wheel, players get the chance to play at their own pace and consider their options thoroughly. Best of all, this doesn't come with the drawback of long wait times, as is seen in standard roulette, because as soon as you're satisfied with your wager you'll be assigned to one of the 12 reels that is already spinning to a stop, meaning that gameplay can quite literally be instant. 
Lord Ping Recommendations
Of course, Instant Roulette isn't the only type of live roulette game that you can play at Lord Ping. If the fact that instant roulette doesn't have a live dealer is a bit of a deal breaker for you, then don't worry because there are titles like Lightning Roulette and XXXTreme Lightning Roulette to enjoy, and if this isn't enough to sate your love for live roulette then why not check out Immersive Roulette and Mega Fire Blaze Roulette too.
Play Instant Roulette on Lord Ping
Instant Roulette is the perfect live roulette title for players that want live casino experiences, but aren't keen on the social interaction that comes with a live host. So, if you prefer to take your time and do your own thing, you might want to give Instant Roulette a try. Sign up and play today at Lord Ping.