One of the best European gaming companies, Evolution Gaming, produced one of the best live casino games, Lightning Dice. This release follows Evolution's great success with Lightning Roulette, and the Lightning series as a whole, but brings a unique perspective on dice this time; which is often an overlooked genre within the casino industry. Once again, this just shows that Evolution is always looking to shape the casino industry and provide new and exciting experiences to its target audience. In today's article we'll be dissecting the Lightning Dice game, so please note that this is a review and not a how-to-play guide. So, without further ado, let's get started.
---
*Terms and conditions apply.*
---
Lightning Dice Game Details
| | | | |
| --- | --- | --- | --- |
| GAME NAME: | Lightning Dice | BET RANGE: | £0.10 - £2,500 |
| GAME PROVIDER: | Evolution Gaming | SPECIAL BETS: | Yes |
| LIVE HOST: | Yes | SUPPORTED PLATFORMS: | Mobile Phone, Tablet, PC |
| RTP: | 96.21% | SUPPORTED OS: | Android, Apple, Windows |
Are We Rolling With the Lightning Dice Gameplay?
The gameplay is as simple as it can be, as is the case with the majority of dice-based casino games. Three standard red dice with face values ranging from 1 to 6 are used to play. The goal is to shake or roll the dice (the game's host does this) and guess the overall result (the players do this).
Evolution Lightning Dice is a fairly quick-paced game as a result of its simplicity. A few seconds is more than enough time for you to place your bets. Given that there are 3 6-sided dice, a total of 16 outcomes, ranging from 3 to 18, are possible. Obviously, not all of these are on par as some likelihoods are more common than others. It's important to note that each round allows for an unlimited amount of wagers. The Lightning Strike feature activates at the conclusion of the betting period and has the potential to increase your earnings. This functionality will be covered in more detail below.
The three dice are rolled down the Lightning Tower in Lightning Dice, a customised device created just for this game. A camera zoom records the results, and those who placed prior bets on the right conclusion are paid out. What begins as a routine dice game soon shifts into high gear. Lightning Dice is fantastic in that it accepts an infinite number of players and adds excitement by displaying the chaotic studio environment. The game employs an opulent Lightning Tower rather than a typical dice shaker machine. We receive a three-level tower constructed of transparent Perspex instead of a straightforward glass jar.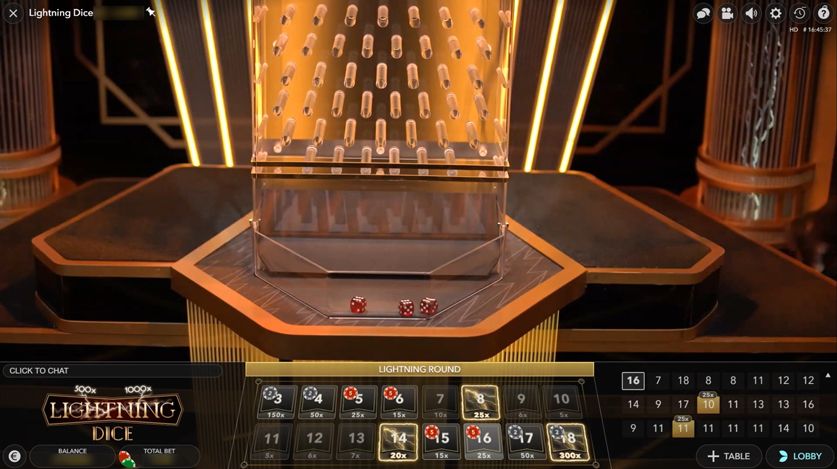 Do the Lightning Dice Features Have Us All Shaken Up?
If you've played an Evolution Gaming Live Game Before, then you probably know what to expect from the overarching experience of playing; high-quality gameplay, in a spectacular purpose-built studio with HD cameras and an expert and amiable host. This seems to be a feature of everything this developer releases and Evolution Lightning Dice is no exception. Visually this game blends in thematically with other releases in the Lightning series with an overarching black and gold color scheme. 
Of course, the stand-out feature of the Lightning Dice live game is the Lightning feature. This starts once the betting is over. Multipliers are chosen to be added to one or more chosen numbers. The multiplier rises with each lightning strike and can reach a maximum of x1000. The dice are thrown, and as the camera gets closer to them, the winning number is eventually seen in true performative style. 
Lighting Dice uses English as its host language just like the majority of Evolution live dealer games. Players can, however, switch the interface's language to their own language. English, Albanian, Bulgarian, Chinese, Croatian, Czech, Danish, Estonian, French, German, Hebrew, Italian, Japanese, Portuguese, Romanian, Russian, Serbian, Slovak, Spanish, Swedish, Thai, and Turkish are available as options.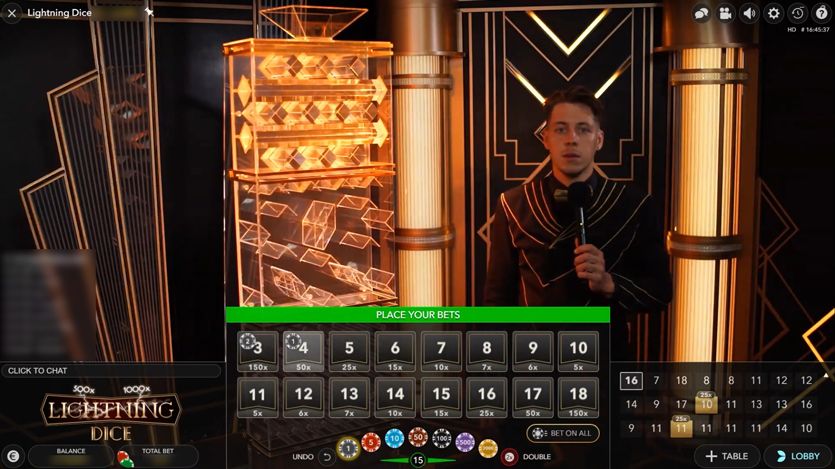 What Are The Lightning Dice Payouts
There are 16 possible outcomes and associated wagers, with odds ranging from 3 to 18. The players may have placed a wager on a few numbers or all of them. Three-dice totals from three to eighteen can be backed. You can see the payouts you'll get on the betting grid. The best return to player (RTP) you can get while betting on 3 or 18 is 96.21%. The game's RTP ranges from 96.03 to 96.21% for the remaining stakes. The payouts for the Lightning Dice Casino Game are as follows:
| | | | |
| --- | --- | --- | --- |
| Dice Outcome | Typical Payout Ratio | Maximum Multiplier Potential | Odds |
| 3 or 18 | 149:1 | 999:1 | 0.463% |
| 4 or 17 | 49:1 | 499:1 | 1.389% |
| 5 or 16 | 24:1 | 249:1 | 2.778% |
| 6 or 15 | 14:1 | 99:1 | 4.630% |
| 7 or 14 | 9:1 | 99:1 | 6.944% |
| 8 or 13 | 6:1 | 49:1 | 9.722% |
| 9 or 12 | 5:1 | 49:1 | 11.574% |
| 10 or 11 | 4:1 | 49:1 | 12.500% |

A Little More On The Lightning Series by Evolution
Evolutions 'Lightning' live game series can be considered the developers flagship title. It all started with Lightning Roulette which is now one of Evolution's most-played games. The series now includes a total of 5 exhilarating live casino games. Each one has a lightning-flash multiplier for an exhilarating gaming experience and the potential for bigger payouts than other live casino games of the same type. If you'd like to learn more about the Lightning game series, feel free to explore Lord Ping's blog post about it.
Play Lightning Dice on Lord Ping
If our review of the Lightning Dice live game has piqued your interest, and you'd like to play this game for yourself or explore more of Evolutions releases then sign up and play today at Lord Ping.