---
Hello and welcome to Lord Ping, where today we're bringing you a Magic Monk Rasputin slot machine review. As an aristocrat himself, Lord Ping knows a thing or two about how the aristocracy works, but even he is fearsome of the powerful Monk that served Tsar Nicholas II, known as Rasputin. Keep on reading to find out more about this intriguing slot, and take a look at all the unique features in our Magic Monk Rasputin online slot review. 
Magic Monk Rasputin Slot Details and Features
The Magic Monk Rasputin casino slot from Merkur Gaming combines history with the fascinating realm of slots. The Magic Monk Rasputin slot, which employs the same ladder-winning strategy as the Black Hole slot, returns you to the days of the Czars and pits you against the intriguing and magical monk himself. Rasputin was a mystic that was feared by many, and in this slot, you'll want to keep an eye out for him too, as he can stand in the way of some pretty nice payouts! 
The payout rules, like everything else about this slot game, are a little unique, much like the mystic himself. The Magic Monk Rasputin slot UK has a unique method of play, unlike conventional 3-reel, 5-pay line slots. In this slot game, instead of obtaining immediate payouts, you can keep your profits to receive higher prizes on the following spins.
Game Symbols 
The Magic Monk Rasputin online slot employs Russian imperial jewels and Faberge eggs as symbols on its reels instead of emblems from the Rasputin stories, such as his body parts (in particular a certain one which we won't name here!), poison bottles, and weapons. This does not, however, rule out the potential of the mystery monk appearing. From time to time, his face appears, staring you down and robbing you of your prizes while creepily grinning at your anguish.
RTP
When you play the Magic Monk Rasputin slot you'll be enjoying a game with a generous 96.2 percent RTP (return to player) and a medium volatility rating.
How To Play Magic Monk Rasputin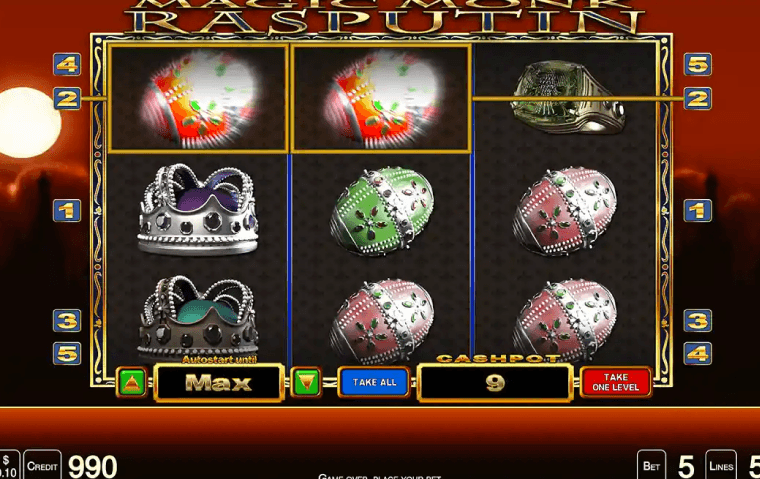 The Magic Monk Rasputin slot machine is a little unusual, but that's half of the appeal and perfectly suits the Mystic it is inspired by. The Magic Monk Rasputin online slot can be played at Lord Ping on any device you like, including on the go via the mobile slot. With only 5 paylines, this slot is straightforward to learn if you know what you're doing. To begin, use the bet selector to choose your wager. The Magic Monk Rasputin slot was designed to appeal to a wide variety of players, so selecting the right stake is never an issue. If you want to go all-in, the Magic Monk Rasputin online slot has a 'max bet' option that allows you to play with the greatest wagering limitations.
The prize ladders, of which there are three, are the centre of this slot. Each ladder has a distinct payout and must be completed by collecting symbols. The Rings will fill the lowest prize ladder, the Faberge eggs will fill the medium prize ladder, and the crowns will fill the top prize ladder, where the jackpot will be won, but more on this when we talk about the Magic Monk Rasputin slot bonus features. 
Magic Monk Rasputin Slot Bonus Features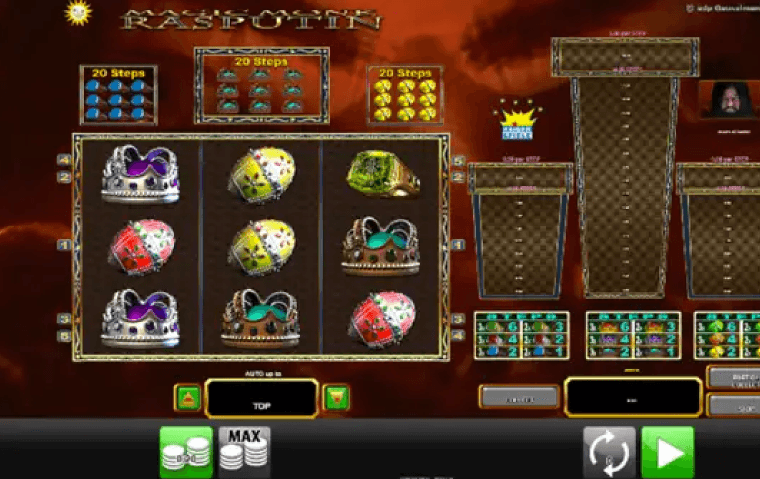 Prize Ladders
Three reward ladders make up the Magic Monk Rasputin's additional features. The first ladder has eight levels and provides prizes of up to 40.5 times your wager. Collecting blue ring symbols will move you up the ladder 1-2 steps while collecting red rings will move you up the ladder 2-4 stages. The green circles will move players the most at 3-6 steps.
The second reward ladder is the most profitable, and it can only be climbed by collecting crown symbols. This ladder has 16 tiers, with the top prize being 2,500 times your wager. The mid-tier reward is the last ladder, which has eight stages and a possible payoff of 62 times your bet. Collecting Faberge eggs of various colors is used to climb this staircase.
All three ladders are climbed at the same time, depending on the symbols that land on your paylines. Your wins are held in a "cash-pot" that can be drained whole or partially using the on-screen controls. Any wins from the "cash-pot" can be used to wager on side games in the slot. You can double your profits by betting 50/50 on a risk ladder or predicting the color of the next drawn card in these side games. Both side games allow you to multiply your prize while also allowing you to lose part or all of it if you make a mistake.
Rasputin
We've talked about the power that this Monk had over people when he was alive, and its slots representation is no different. Players have the option of claiming their rewards, redeeming a portion of their earnings, or continuing to play for larger payouts after a segment of a prize ladder is completed. If a player, on the other hand, lands the Rasputin symbol, they will lose all ladder progress showing that this mystic still has power from beyond the grave. 
Review Summary of Magic Monk Rasputin Online Slot 
If you've enjoyed our Magic Monk Rasputin slot review and want to give the game a try yourself then sign up and play today at Lord Ping!