---
The exciting game features a typical Irish theme with lots of lucky symbols and charms appearing on the game's grid. Rainbow Riches Slingo slot has a fantastic selection of bonuses, including Free Spins, a Bonus Wheel game with fabulous cash prizes and its great winning multiplier. In this Slingo Rainbow Riches online slot review, we will show you the features of this game.
Slingo Rainbow Riches Slot Details and Features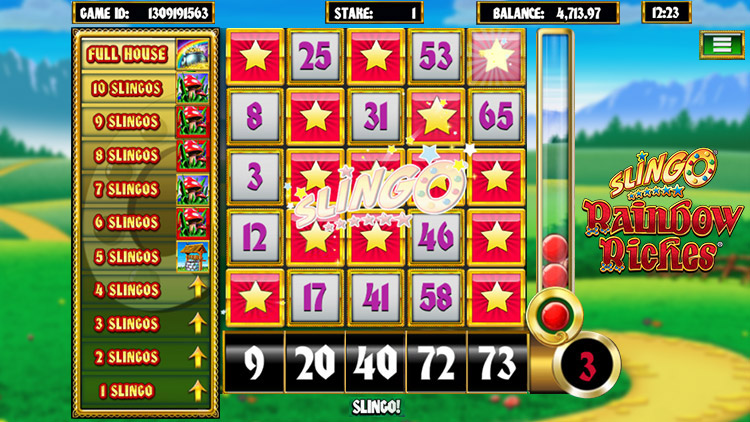 Enjoy the fusion of bingo and slots in this classic Slingo Riches slot review. This version is themed on the classic Rainbow Riches slot, with a golden path leading through emerald green fields, the 5x5 bingo card takes centre stage with 25 paylines filled with your bingo numbers. Slingo Rainbow Riches is an online slot created by Slingo Originals
All you need to do is match the numbers of the Slingo Rainbow Riches online slot on the reel with the grid to complete slingos and move up the pay table. As we already outlined, this game is a cross between slots and bingo.
Game Symbols 
To help you along your way, there are a few important symbols to be aware of in this Slingo Rainbow Riches slot machine.
The Joker with a green background lets you mark off any number in the column above to help you complete Slingos. There's also a Super Joker (lilac background) that enables you to mark off any number on the entire grid.
The Devil acts as a blocker to try to stop you from completing Slingos, and the Free Spin symbol awards an extra spin at the end of the Slingo Rainbow Riches slot machine.
You'll meet the game's main character, Larry the Leprechaun, during the Road to Riches bonus round. He'll be the one spinning the wheel of fortune during the bonus, and hopefully, some of his Irish luck will rub off on you!
RTP
The RTP of this Slingo Rainbow Riches mobile slot is 95.60% and this game is a medium-variance slot.
How To Play Slingo Rainbow Riches
Players must make a single initial bet before beginning the game. The game's payout is determined by how many "slingos," or completed lines, that the player can construct by the end of the game. Each number of slingos signifies a different bonus game. Each bonus game in the Slingo Rainbow Riches slot uk awards a unique potential payout.
The player starts the Slingo Rainbow Riches casino slot with 10 spins. More spins can be won by receiving free bonus spins throughout the course of the game. After the original spins are exhausted, players can also pay for additional spins individually. Once the player has finished buying additional spins, they can press the "End Game" button to start a new game.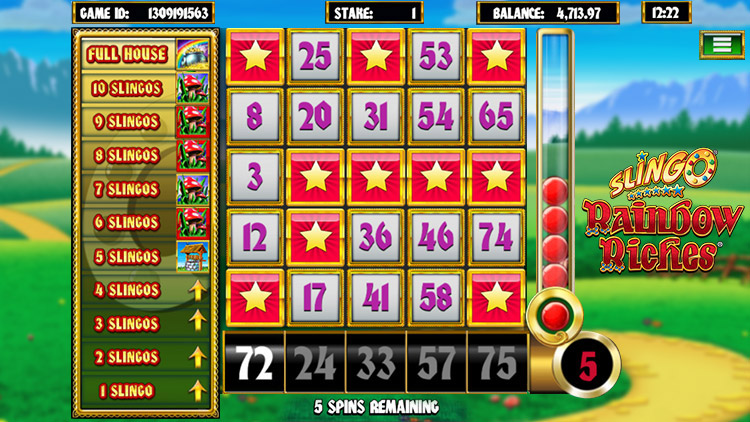 Slingo Rainbow Riches Slot Bonus Features
Regular joker – this symbol enables you to pick any number that hasn't been drawn from the respective reel where they appear.
Super joker – this symbol enables you to pick any number from anywhere on the grind.
Devil – this is a negative symbol, it blocks numbers, so if it appears you won't get a chance to eliminate a number from that row.
Review Summary of Slingo Rainbow Riches Online Slot 
Fun and easy to play, this Slingo Rainbow Riches slot machine review showed you that it has high RTP, a 5×5 grid, and loads of bonus games. You will easily hit Jokers and Super Jokers that will let you move up the ladder very quickly. Slingo is the answer to every Slot and Bingo fan.
Play Slingo Rainbow Riches slot at LordPing casino and play the game anytime and anywhere you want.