---
The live game show Crazy Time has a cooky fantasy theme with a wheel of fortune reel at the heart of its gameplay. Crazy Time, a live casino game developed by Evolution, stands out from many other live games available thanks to its four bonus features. But how do these bonus features stack up, and what's the overall gameplay experience like? In today's article, we'll be putting this game to the test to bring you a comprehensive Crazy Time game review. If you've not heard of the game before, or are looking to learn how to play Crazy Time, check out our blog A Lord Ping Guide on How to Play Crazy Time.
Baccarat Squeeze Game Details
| | | | |
| --- | --- | --- | --- |
| Game Name: | Crazy Time | Bet Range: | £0.10 - £5,000 |
| Game Provider: | Evolution Gaming | Side Bets: | Yes |
| Live Host: | Yes | Supported Platforms: | Mobile Phone, Tablet, PC |
| RTP: | 96.08% | Supported OS: | Android, Apple, Windows |
How Does Crazy Time Gameplay Shape Up?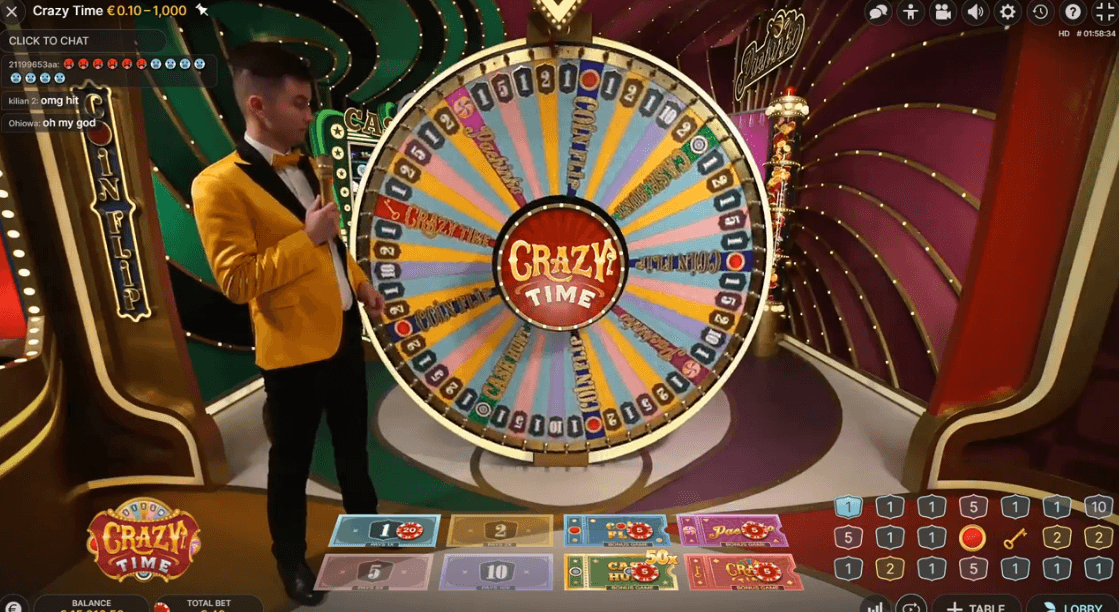 Crazy Time is one of Evolution Gaming's signature prize wheel casino games. The game was based on Evolution's original Dream Catcher prize wheel, which was inspired by classic Wheel of Fortune games that were well-liked in the 1980s and 1990s on television and at fairs. Crazy Time stands apart in the world of reward wheels, in contrast to the majority of other spinning prize wheel casino games, because it offers a variety of bonuses and props, making it exciting to watch and earning its 'crazy' name. 
Crazy Time takes place in a flashy studio, with lots of bright colors and swirling motifs. There are a variety of different sets used for the four bonus rounds, with the prize wheel itself taking centre stage. As this is a live game, Crazy Time is presided over by a friendly and bubbly host, dressed in bright, whimsical, clothing to match the overall theme. It's this use of theming that makes Crazy Time perfectly capture the cheesy nostalgia of the classic TV game show.
A Breakdown of the Crazy Time Features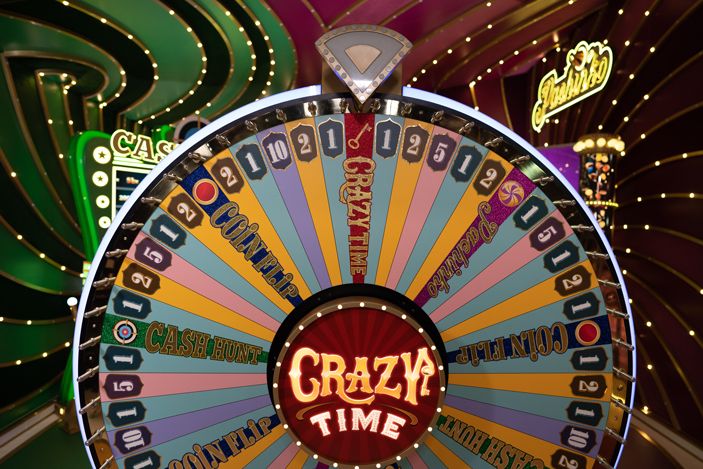 As we alluded to earlier, it is the bonus features of Crazy Time which make this game stand out from the crowd. There are four bonus rounds, Cash Hunt, Coin Flips, Pachinko, and the titular Crazy Time. What makes these bonus features so successful in terms of player experience is their simple nature, which is facilitated by a smart studio layout, which allows the host to walk effortlessly to the bonus feature's set. Each of the games aside from the Crazy Time bonus can be played through in just a few moments, such as a coin flip or round of Pachinko, and have straightforward multiple-choice options that players can select i.e heads or tails, or select a segment which the chip will land in. This simplicity is great because it's enough to shake up the game experience to keep play exciting, without affecting the flow of the overall presentation. The Crazy Time bonus is a little different from this as it takes place in a separate room with a show-stopping wheel. However, as there's only one segment for this feature on the initial reel, it becomes a relatively rare occurrence that players anticipate, similar to the finale of a TV game show, where the biggest prizes can be won. 
Our Thoughts on the Crazy Time Betting Experience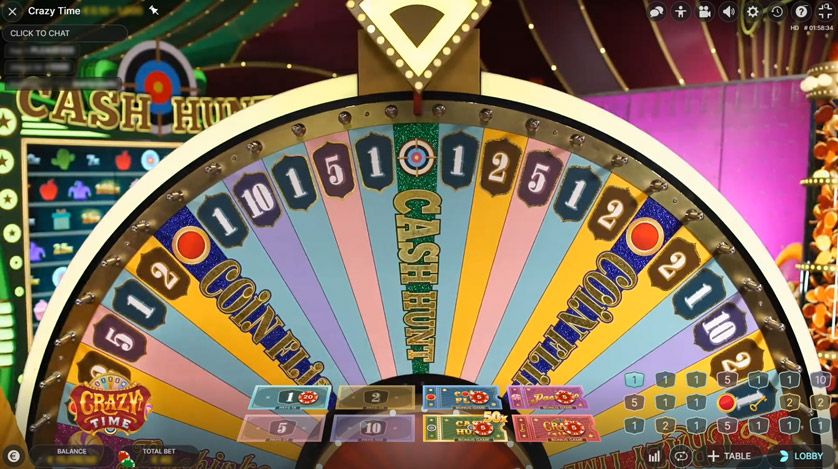 Crazy Time has a theoretical return to player of 95.41% - which is pretty standard when it comes to live game shows. In terms of the betting experience, Crazy Time offers plenty of scope for gamers to experiment with what suits them, and many sites will outline potential strategies for low, medium, and high volatility fans (though at the end of the day Crazy Time is 100% a game of chance). With wagers starting at only 10p, Crazy Time is the type of game designed to welcome one and all which fits with its fairground aesthetic. The main draw for bettors is the hope of triggering one of the four bonus rounds with the Crazy Time bonus round having the potential to unlock multiplier prizes of up to 20,000x. Of course, this scenario is pretty rare, so make sure to always to gamble responsibly.
What Do Players Love About Crazy Time? 
While for some online casino players less is more, Crazy Time is designed for the player who's always looking for more game show action. With four bonus games on offer and the quick pace of each wheel spin, Crazy Time remains engaging session after session. Evolution Gaming's high-quality presentation definitely lends to the game's popularity, and their experienced hosts do a great job of keeping the pace consistent yet exciting. 
Lord Ping's Final Thoughts
As far as Lord Ping sees it, Crazy Time is definitely here to stay. While this may not be the game that the serious high-stakes poker player joins in on, the Crazy Time game has been designed with a broad demographic in mind and offers a little something for everyone. Put simply, Crazy Time offers all the fun of the fair in a winning live game show format. 
Lord Ping Recommendations
If you've been around the casino block once or twice you don't need telling of Evolution Gamings stand-out skills when it comes to the live game show experience, and their expertise certainly isn't limited to the CrazyTime game. So if you love what Crazy Time has to offer, but are looking to try something a little different, Lord Ping thinks you'll enjoy these similar titles: 
Play Crazy Time on Lord Ping
Crazy Time is certainly crazy-good fun, and if you want to see what the prize wheel has in store for you, sign up and play today at Lord Ping to give this live game show a try for yourself.