---
On The North London Derby 
What was your immediate reaction to the north London derby and what do you think the result tells us about Arsenal's ability to compete for the Premier League title? 
I came away from the match against Tottenham feeling a little bit disappointed. When you take the lead twice in a game against your local rivals and don't win, its only natural to have a few regrets.  
I don't think Arsenal were at their best (on Sunday). I don't think they tested the Tottenham keeper enough and a point was a fair result. I feel like the match did highlight Arsenal's need to add a top-class striker. Arsenal have so many of the jigsaw pieces in place, there are a lot of great players there, but something is missing. Gabriel Jesus is a great player; he works hard off the ball and gives everything for the team, but he does snatch at chances sometimes and doesn't have a cool head in front of goal.  
Eddie Nketiah had a poor game, probably the poorest I've ever seen him play for Arsenal. He is a valuable squad player, but if Arsenal want to challenge for the title, then I think they need to bring in another striker.  
I was impressed by Tottenham. They had a difficult start to the game and couldn't get out of their own half, but they've got a resilience and steel to them at the moment. Ange Postecoglou has improved a lot of players and they don't look like pushovers this season. He (Ange Postecoglou) has done a lot of work in a very short space of time at Tottenham.  
Similarly, what do you think this result tells us about Tottenham this season? 
I think Tottenham will be looking to finish the season higher than seventh. They'll be looking at the European spots at the very least. As for what competition they'll qualify for, that is a different matter and I think it's difficult to say whether or not this team could qualify for the Champions League at the moment. It's very early days. My gut feeling says that Tottenham may be a little bit short in respect of the top four, but you can get on a roll as a club and start to build momentum. Confidence is flying, and you never know where that can take you.  
Tottenham are a team that opponents won't enjoy facing this season. Teams will not enjoy going to the Tottenham Stadium and, as Ange Postecoglou said himself, you have to be brave to play the way that they do. They were still passing out from the back when they were under the cosh at Arsenal, they take chances with their football, but they are a team that will test you going the other way and will get players going forward. Son looks to be back to his best. They look like a formidable opponent at the moment.  
You were at an Arsenal vs Tottenham golf day yesterday – what was the reaction to the result from the Tottenham camp? The Tottenham legends must be delighted with what they are seeing at the moment. 
The Tottenham legends are delighted with how everything is going at their club at the moment. The feel-good factor is back at Tottenham, players are smiling on the training ground, and everyone knows where they are from one day to the next. Antonio Conte famously didn't tell his players their schedule for the week, which can impact players lives away from the pitch in terms of planning things with their own families. Things are much more settled now.  
Everyone connected to the club feels optimistic. It is a bit of a cliché, but the people around the club do feel like they've got their old Tottenham back. 
---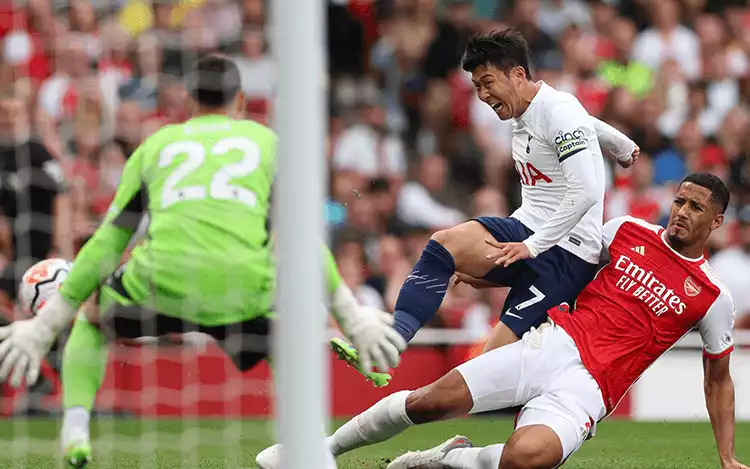 Son brace secures the draw
---
Do you think that Arsenal's performance against Tottenham was impacted by their European fixture in midweek? 
I don't think Arsenal's increased fixture schedule contributed to the result against Tottenham on Sunday. Arsenal produced a comprehensive win against PSV that enabled them to take their foot off the gas towards the end of the match. Arsenal will have to cope with the demands of managing both Champions League and domestic football, but Arteta has a deeper squad to cope with that.  
I don't think Arsenal's start to the season has been as bad as some people have made out. You don't always click into top gear straight away. The results have been there, some of the performances haven't been top notch for an Arsenal side, but there were times in the match on Sunday when Arsenal were knocking the ball about and Tottenham couldn't get near them. Some of the Spurs lads at the golf day even admitted that and, when Arsenal are playing with confidence and zipping the ball about, they are a very difficult team to play against. I think Arsenal are slowly warming up. I'm pretty sure they will hit their stride soon.  
I saw some comments from you afterwards about the strikers position being the missing link in the Arsenal team. Do you think this is something Arsenal should address in the January transfer window and is there a player out there who you think would suit this Arsenal side?
I really like Ivan Toney. There have been a few reports linking him with a January exit from Brentford and he would be my number one choice if Arsenal were looking to recruit a new striker.  
He is a proven Premier League player. He knows what the league is all about and scored twenty goals last season. I think he is a player that is still improving. He is learning a lot under the management of Thomas Frank, who is a great manager.  
Thomas said on Monday Night Football last week that Brentford are a selling club and if the offer is right, the club will let Toney move on. I don't think Toney will be short of suitors because everyone wants a goal scorer. Arsenal would be an attractive destination for him, and I think he would be a great signing for the club. He could be the missing piece of the jigsaw. Ivan Toney has that physicality through the middle, great pace and is a team player. I think he would be a wonderful signing for Arsenal.  
---
On Arsenal 
One of the bigger talking points concerning Arsenal recently has been Mikel Arteta's decision to replace Aaron Ramsdale with David Raya in his starting eleven. What have you made of that decision? 
When Raya weas signed by the club, it shocked quite a lot of people. Everyone thought that Ramsdale was a very good goalkeeper and there wasn't a problem to fix in that position, but Arteta clearly felt differently.  
David Raya is his number one now. He sees things in Raya that he doesn't see in Ramsdale. He must think that Raya has better ability with the ball at his feet and a better passing range. There were times during the match against Tottenham where Raya was standing on the half-way line – he really does take up some advanced positions when Arsenal have the ball in the opponents half.  
I don't think Arteta will come out and publicly say that Raya is his number one because of the damage that might do to Ramsdale's confidence, although Ramsdale will know that he (Arteta) prefers Raya. If it carries on like this, I think that Ramsdale will try and leave the club at the end of the season. Ramsdale is too good a goalkeeper to be content with sitting on the bench and it is very difficult for any manager to keep two goalkeepers of that quality happy within the same squad. Something will have to give at some stage.  
---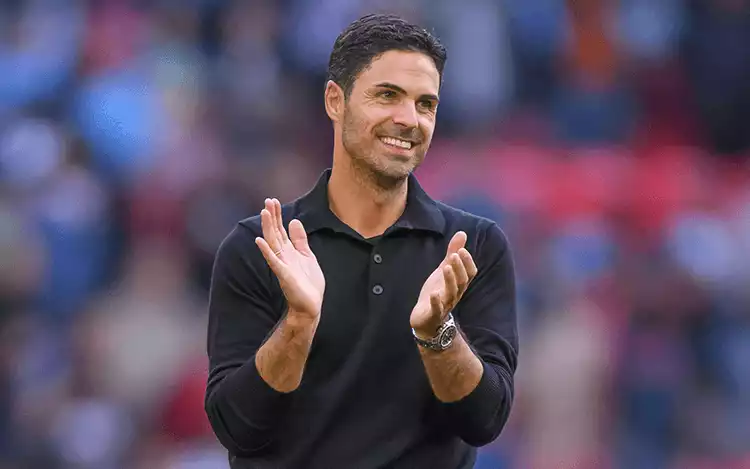 Arteta under the spotlight for replacing Ramsdale
---
Six games into the season, Arsenal are unbeaten, but the football hasn't been as fluid as last season yet. Do you think that is a consequence of trying to bed in new players or is it tactical? 
I don't think Arsenal are trying to do anything different tactically from last season. Obviously, you have the new additions and Declan Rice has settled into the team quickly. Rice is learning the role all the time. I heard some complimentary comments from Rice about his development and learning new things under Arteta.  
The way that Arteta sets his team up and plays, the demands that he has on his players, it is very similar to Pep Guardiola at Manchester City and sometimes it can take a little bit of time for a player to adjust to those demands and methods.  
Kai Havertz is another one (new signing). He's taken a little bit of stick from some Arsenal fans, and he is trying to find his role in the team and get to grips with what Arteta wants. You can see that he (Havertz) is low on confidence. I'm a supporter of Havertz. Technically he is very good, and he can be a good finisher when he is on a roll by arriving in the box late and exploiting spaces. I think he just needs to adjust to his role in team before he starts to come good for the club.  
On Havertz, do you think a goal or an assist – a key contribution in a game – is all it is going to take for his Arsenal career to ignite? 
I think if he scores one or two or provides one or two assists in the next couple of games, then some people will change their mind about him. It's not like Arsenal have been losing games… I remember when I first joined Arsenal and didn't score in my first three games. I saw the rumours linking the club with Kerry Dixon, who was a great player at the time, and the reports were that I hadn't settled at the club. I thought to myself, 'blimey, this is a different ball game at Arsenal than what I used to at Leicester.'  
Havertz is used to having pressure. He looks like the kind of player that can handle that. He scored the winner in a Champions League final for Chelsea and knows all about the scrutiny top players face. I think he just needs to find his feet and when he does, we can all move on from discussing him.  
---
On Brentford vs Arsenal
Mikel Arteta has assembled a good squad at Arsenal, but at times he seems reluctant to use it with players like Emile Smith-Rowe and Reis Nelson rarely featuring. Should the players that haven't featured as much use the Carabao Cup to remind Arteta of their worth to the squad?
I think the Carabao Cup is a great opportunity for Emile Smith-Rowe to remind his manager of his ability. It's been a curious one with Smith-Rowe. A few seasons back, he burst onto the scene and was playing really well. Coming from the academy into the first team with Saka, it looked like they were a pair of players that were going to go all the way to the top of the game.  
Obviously, Saka has done that, Emile hasn't yet. Arteta is a ruthless manager. He's shown that streak with the goalkeeper situation. There must be something about Smith-Rowe that Arteta isn't sold on. Whether Emile will leave the club in the future I don't know. I imagine that is something that he will be thinking about because his career has come to an abrupt halt at the moment. There is no doubting Smith-Rowe's talent. Hopefully he will start against Brentford, play well and get a goal or an assist. He will want to play well to catch the managers eye or to catch the eye of any potential suitors.  
---
On Tottenham
What have you made of Tottenham's start to the season? 
Ange Postecoglou has radically changed the way that Tottenham go out and play. It's not easy to do that, especially when you consider the teams that Tottenham have faced and the level of the Premier League. The players have to be convinced by what the manager is saying. It's one thing being liked by the players as a manager, but if you don't respect what he's trying to tell you, it all goes out the window. He has done spectacularly well so far to achieve what he has.  
One of the most impressive things about him is how he has improved the performances of certain players. Yves Bissouma could have won man-of-the-match in every single match that he's played this season. He's been magnificent in the heart of that midfield and looks to be back to his best after a difficult spell under Antonio Conte where he didn't really play.  
Pedro Porro looks like a more solid defender in Postecoglou's team. He's spent the majority of his career playing as a wingback, but on the back foot he looks a bit better. Romero looks a little bit more composed and less likely to get himself sent off. He still plays on the edge a little bit, but he looks better. Pape Sarr has done well since coming into the team. Kulusevski will only get better and Son, who was at a real low last season, has started the season very well indeed.  
I think it will be interesting seeing what happens with Richarlison and his place in the team. Richarlison isn't a player that you can hang your hat on in terms of getting a performance out of him every week. He's a very emotional player and person, so one to keep an eye on.  
Brennan Johnson, who joined from Nottingham Forest. I'm looking forward to seeing what he can do in this team – he is a talent.  
As a coach, Postecoglou is doing his work on the training ground, getting his message across, and improving individuals, which is really important.  
Ange Postecoglou is quickly turning into a neutrals favourite in the Premier League
I think that is because Ange Postecoglou has that human touch. It is chalk and cheese when you compare him and how he comes across in the press to Antonio Conte. People like listening to him, and I thought it was excellent how he spoke about Richarlison and his problems off the pitch.  
As a man manager, you can see what kind of impact that he's had on his players and the overall positive atmosphere that he has created in the dressing room.  
---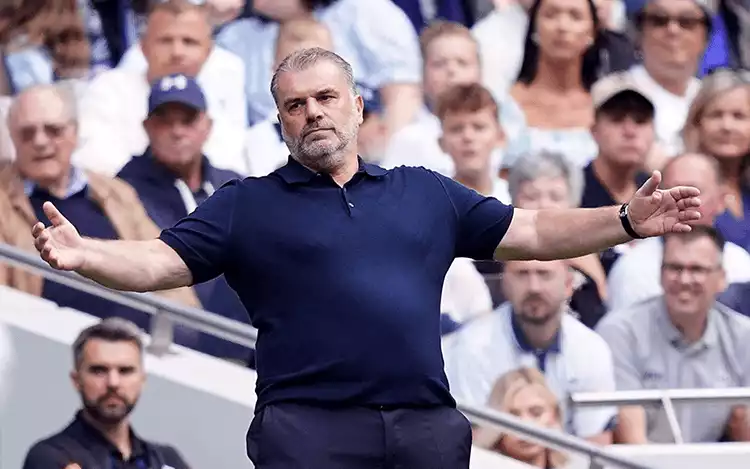 Ange has brought a 'personal touch'
---
Let's have a word on James Maddison – he has been fantastic since joining Spurs. He seems to be the poster boy of this Tottenham revival. He's always pretty candid in his media interviews and, I think you can speak like that if you deliver on the pitch, which he certainly has. Were you surprised that there wasn't more interest in him when he joined them this summer? 
Maddison had one or two injury problems at Leicester last season, but when he was fit, he played well. He's settled into his new surroundings at Spurs incredibly quickly and he looks like a proper Tottenham player. The fans love him. He's embraced the whole club.  
He has personality. He had his private box decked out with him and his kids in Spurs shirts. As you said, he probably gives the best interviews out of any of the footballers in the Premier League. He is an intelligent boy and the perfect fit for Tottenham.  
On the pitch, he wants the ball and to make things happen. He has an eye for a pass and is a wonderfully creative player. When you join a new club, you want to get off to a good start and he's had more than a good start to his Tottenham career. He'll be delighted with how things are going at the moment.  
If Maddison continues to do what he's doing for Tottenham, can you see him becoming an integral member of Gareth Southgate's England team? 
England have got so much talent in the squad, especially in the midfield. Jude Bellingham is bossing it at the moment. Declan Rice has been great for Arsenal so far. Foden can play in a number of roles, so there's all kinds of competition, but you'd think that Maddison will be part of the England squad with his current form.  
If he keeps delivering for Tottenham, then you would want him in that England team. I don't think Gareth Southgate can afford to overlook him for his squad for the European Championships. He's been in squads before and hasn't been able to nail down a position in the team. Maddison just needs to keep going, working hard and you would think the rewards will come.  
---
On Chelsea
Chelsea have had their worst start to the season in 45 years. Have you been surprised that Chelsea have carried on where they finished last season under Mauricio Pochettino? 
I was at Bournemouth against Chelsea last week and, reading the stats beforehand, an incredible one was that they had only won two of the last sixteen league games, which we can now extend to seventeen games. For a team like Chelsea, with the money they've spent, it's quite incredible. There is an underlined malaise at the club.  
What a job Pochettino has on his hands. He's tried to keep a settled side, only making changes due to injury. On the whole, he has kept the same personnel to try to engineer a little bit of togetherness and understanding within his side.  
Chelsea do have a lot of injured players at the moment, but, after the money the club has spent under the new ownership, not many people will be crying for them about that. The problem that he has is that he has a lot of young players who are trying to get to grips with the Premier League in a completely new environment. It must be very hard for those individuals to come into this Chelsea team at the moment.  
Chelsea's biggest problem is in front of goal. They need someone to put the ball in the net. They've drawn blanks in their last three games and, I think if they had scored a few more goals, all of the sudden the tension around the team eases and gives everyone associated with the club a bit of relief.  
The players look tense in games because they know they are not scoring goals. Mykhailo Mudryk doesn't look like he knows what he is supposed to do; his touch is heavy.  
Nicolas Jackson looks like he still has an awful lot to do to show that he is a top-class striker. His general game, his awareness and touch haven't been at the level required.  
I don't know where it's going to go with Chelsea, I really don't. I can't think of a situation like this before where a big club has spent so much money on bringing in new players and they can't buy a win at the moment.  
I thought it was surprising that Chelsea went into the season with so many new, inexperienced players. Obviously talented individuals, but, on the whole, guys who haven't played Premier League football. 
We know Poch likes working with young players, and what Chelsea's transfer strategy is, but I thought it was quite surprising that the club went into a new season with so many. It feels like Chelsea are looking for too many things to happen at once in regard to their playing squad clicking. 
We don't know how much of a say Mauricio Pochettino has had on recruitment at Chelsea. If he didn't have an input into recruitment and is being given players by the people that are running the club, that would be a problem for him.  
I think this is a tough situation for Chelsea. They are in desperate need of a win and they also need to show a comprehensive improvement in their performances and a sharper cutting edge up front.  
I'm not sure where they're going to get a win from at the moment. It was a massive blow for the club to lose Nkunku at the beginning of the season. I think he is a player that can provide goals to the team, either from the flanks or through the middle, but Chelsea shouldn't be dependent on one player after the money they have spent. It will be fascinating to see how their season pans out.  
---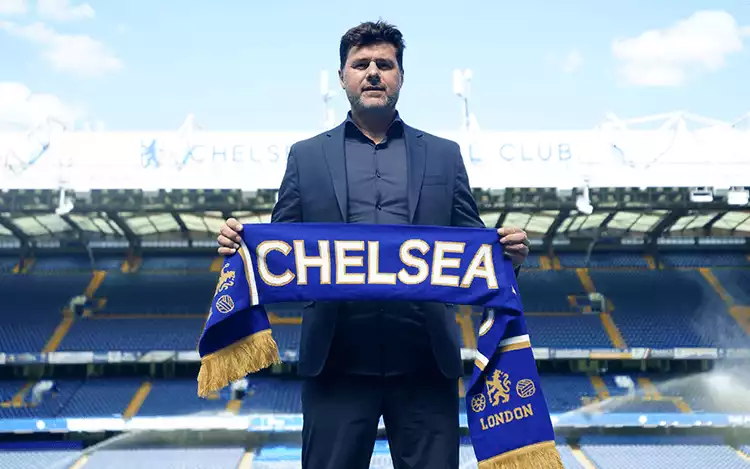 Pochettino already under fire
---
I saw him mention in the aftermath of the Villa defeat that his team needs to grow up. How much is Chelsea's lack of experience impacting results this season? 
Chelsea's lack of experience is having a big effect on the club's performances. It's OK for Pochettino to say that his team needs to grow up, but it's hard to do that when you're not playing well and picking up wins. It's hard to that when you're working with a group of players that aren't familiar with the league and its demands.  
I don't think improvement will happen overnight. Pochettino will know that and he will be fearful of that. He'll be looking to try and find the right formula with his team over the coming weeks and perhaps he will make a few changes. He has so many options when everyone is fit.  
Any manager would find the situation at Chelsea incredibly difficult. As I mentioned, this is a situation that is without precedent at the moment, but ultimately the buck stops with him. If by Christmas results haven't improved, you would think that Pochettino would probably be given his marching orders. He knows that he is under pressure and that he has to do the business.  
There are quite a few disgruntled Chelsea fans, although their frustration tends to be directed towards the ownership and not Pochettino and his players. I recently read a report in The Telegraph that stated the Chelsea owners want to create a '100 point team' in the future, something that has only ever been achieved once in the Premier League era. Is it any wonder that Chelsea fans are frustrated when there reading these comments from their owners and seeing what is being delivered on the pitch and disparity between the two. 
The Chelsea owners will want to shoot for the stars. There's nothing wrong with the owners showing that ambition and setting such high long-term targets. Maybe the Chelsea fans would prefer the owners to take more of a back seat and let the manager get on with it.  
From what we've heard about Todd Boehly, he isn't averse to going into the dressing room after games and letting the players know what he thinks. I'm not sure how that will go down with the players, but, more importantly, with Pochettino. Perhaps he will feel a little bit undermined by that, especially from someone, with respect, that doesn't know the game of football.  
Everyone at the club has to be singing from the same hymn sheet and pulling in the same direction. I think there could be too many different factions within the club at Chelsea. It looks like there are quite a few things that need fixing behind-the-scenes and Pochettino can't do it all. There is a lot to put right there.  
Chelsea face Brighton at home in the Carabao Cup. After losing their last two matches at home, the pressure is starting to mount. It feels like this game is inching towards must-win territory. This is a match that Chelsea will have to take seriously. How much pressure is on Poch going into this and this a match that they need to show something in? 
In the situation that Chelsea are in at the moment, they will be dreading their homes games. The team isn't playing with any confidence, and when you can hear all the moans and groans. Stamford Bridge is the last place that this group of players will want to be. They would much rather be playing away from home.  
It's easy to go into your shell when your confidence is low as a player. Brighton are probably the last team that Chelsea would want to be playing at this moment in time. Under Roberto De Zerbi, Brighton have shown this season that they can rotate players and still get results. They are everything that Chelsea aren't (as a football club). Everyone associated with the club from the pitch to the upper management know exactly what they're doing. On the pitch, they play a wonderful brand of football that is really difficult to stop. This is a nightmare tie for Chelsea.   
---
On Liverpool
What have you made of Liverpool's start to the season? 
Going forward, Liverpool have got so many options. They have so much fire power in the team, but they will always give you a chance. They have only kept one clean sheet this season and Virgil van Dijk isn't the imperious figure he was after he picked up that injury at Goodison Park.  
They are a very exciting team to watch now, unlike last year. I think that they will be feeling optimistic about the season ahead.  
Do you think that this Liverpool team is ready to challenge for the title? 
I don't think Liverpool are ready to challenge for the title this season. I don't feel like they're at the level required to go toe-to-toe with Manchester City over the course of thirty-eight games. I think they can be a bit vulnerable at times defensively and that will hold them back.  
After last season, this is what they needed to get everyone back on board and feeling positive about the direction the club was moving in. This is a new chapter for Liverpool under Jurgen Klopp and he's focussed on moving forward.  
It's good to see Darwin Nunez doing better. I always thought there was a top striker in there and we're starting to see that this season.  
---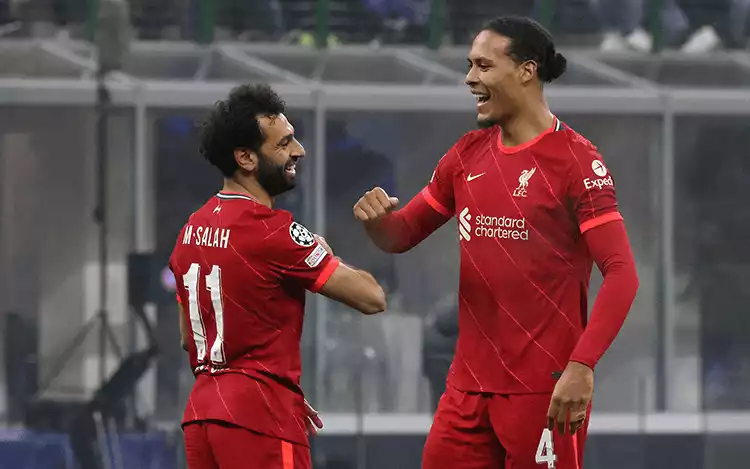 Firepower up front, defence questionable
---
Yeah. Darwin Nunez has three goals in six Premier League matches. Do you think he is starting to acclimatise to the rigours of Premier League football? 
I don't think that Darwin ever struggled with the rigours of the Premier League. He is a physical player that puts himself about. He has great strength. I always felt that he got a bit overexcited at times last season when he was in front of goal. I don't think he has completely eradicated that from his game – you can still see that is there at times, but he does look more comfortable and settled.  
Scoring goals and demonstrating his value will have helped him massively. He'll feel more part of the team now than he did in his first season having had that time to settle in.  
There won't be one centre back in the Premier League who will enjoying playing against him this season. He's unpredictable in his movement and he's strong enough to knock most defenders off the ball. You'll have to be on your game to control him. 
---
On Newcastle United
After a spirited draw in the San Siro, Newcastle blew Sheffield United away on Sunday. Do you think that is the result that kickstarts Newcastle's Premier League season? 
There is every chance that the result against Sheffield United could be the catalyst to start Newcastle's season. It was an extraordinary result against Sheffield United with eight different goal scorers.  
For Eddie Howe, it was the prefect result. It shows him that he doesn't have to be over-reliant on players like Callum Wilson and Alexander Isak. He has goals in every department of his team.  
I think Newcastle had a difficult start to the season. They played Manchester City, Liverpool and Brighton in their first four games, so you would expect them to push on from here.  
They have a really steady back four. If those defenders can give the attacking players in the team a solid foundation to build from, and, if they can get Tonali acclimatised quickly, then I think they'll have another good season.   
I really like the strikers at the club. Callum Wilson and Alexander Isak are capable of causing problems to any team in the division.  
Whether they finish in the top four again remains to be seen, but I certainly expect Newcastle to start climbing the table.  
---
On Manchester United
Manchester United have had a poor start to the season. Why do you think they are struggling at the moment – it doesn't look like a happy camp at Old Trafford. 
What could go wrong for Manchester United has gone wrong, both on and off the pitch. There has been a number of problems with Antony, then you have the situation with Jadon Sancho.  
It seems like there are too many players in the dressing room that are looking out for themselves and pointing the finger at others rather than looking at their own performances. It looks like they're missing some leadership in the squad, and they have a little bit of a tendency to fold when things go against them.  
For ten Hag, it has been a heck of a start to his second season at the club. This wouldn't have been the start that he was envisioning having finished third and winning a trophy last season.  
It's difficult to say how United's season is going to go from here. There are lots of things that they will be looking to improve upon and fix. Ten Hag has the makings of a good team if he can get the team spirit going again.  
---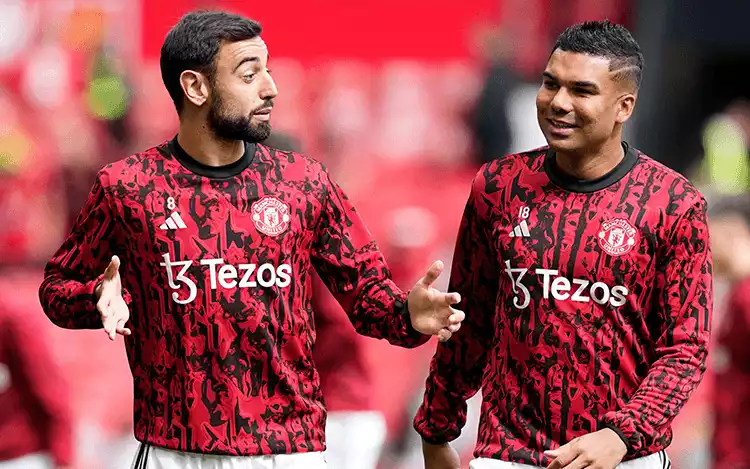 United need stars to fire
---
He hasn't featured that much for his new club yet, but what are your first impressions of United's new striker Rasmus Hojlund?
I like what I've seen of Hojlund so far. When he made his full debut against Brighton, he was enthusiastic and quick. He makes good runs. I think he's one of those players that will nick United goals in games. He had a goal ruled out against Brighton and he got a bit of a scrappy one against Bayern, but he was in the right areas, and he seems to have a poachers instinct.  
I think that's a great sign for Erik ten Hag. It's really hard to coach a poachers instinct into a player. If he gets a run of games, he'll get a run of goals.  
---
On Aston Villa
After a difficult start to the season, Aston Villa find themselves in sixth. What do you think the club should be looking to achieve this season? 
Unai Emery never really goes over-the-top in terms of what he feels are realistic targets for Aston Villa this season. He is level-headed and he is always talking about finishing in the top six or seven and qualifying for Europe. He doesn't feel like he can compete for a place in the top four, which is probably about right when you look at the teams who will be fighting to finish in those positions.  
He's such a good manager. He has demonstrated that at several clubs. Aston Villa have recruited well and he's handling his new signings really well. The club seems to be on an upward curve at the moment, which is great news as one of England's famous old clubs.  
I think they will have another good season and they will be happy with a similar season to last. I think there's a bit of a glass ceiling in the Premier League in terms of how far Aston Villa can go.  
Aston Villa take on Brighton on Saturday. Is this the type of fixture that will tell us if the Birmingham giants are ready to challenge for a place in the Premier League's top six?
This is a match that Brighton could easily win three nil. With the way that Brighton have performed this season, that wouldn't surprise you.  
Unai Emery is a very detailed coach and he'll be doing everything in his power to find a way to stop this Brighton team playing their football while looking at ways his team can hurt them. Most coaches have failed in doing that so far this season, but you wouldn't put it past Emery to be able to find a way (to get a result).  
I don't think we'll find anything out about Villa that we didn't already know after this game if Aston Villa lose because Brighton can take anybody apart. Ollie Watkins got off the mark against Chelsea with a really well taken goal from a tight angle, so he'll be feeling better. Maybe Villa can do well in this fixture.  
Ollie Watkins opened his Premier League account against Chelsea on Sunday. Do you expect the floodgates to open for the England striker now he has finally hit the back of the net? 
Ollie Watkins had a brilliant end to last season; he couldn't stop knocking the goals in. After netting his first goal against Chelsea, I don't see why he can't start scoring goals as frequently as he was doing last season now.  
Under Emery, I think Watkins has improved a lot. It looks like Emery has found a player that can perform as a lone striker, which isn't easy for a striker. If you're asked to play up there alone, you need to be intelligent with your running. I think that Ollie Watkins is a very good finisher and, when he is confident, he is one of the Premier League's most dangerous strikers. He's playing in a team that is creating a lot of chances. It looks like the goals will be there for him this season.  
---
On Brighton
Do you think there is a chance that Brighton could go one further this year and qualify for a place in the Champions League? 
I think that Brighton have a very good chance of qualifying for the Champions League this season if they can maintain their current performance levels.  
We all wondered how they would cope with Moises Caicedo and Alexis Mac Allister leaving, but their absences haven't had any impact on performances so far. They have the confidence and one of the best managers around, so why can't they qualify for the Champions League.  
It will be interesting to see how they get on in Europe. They struggled against PAOK, but everyone's allowed a bit of an off night. There could very well be an opportunity for Brighton to get into that top four. They are everyone's second team, aren't they? I think everyone enjoys seeing the big boys getting taught a lesson by a smaller team and Brighton are doing that at the moment.  
---
On Leicester And The Championship
Unbeaten Leicester have got off to a great start in The Championship. What have you made of your old club so far? 
I'm really pleased with the start that Enzo Maresca has made with Leicester this season. I was there on the last day when the club was relegated last year. I was always hoping and thinking that they would eventually crawl clear of trouble, but it wasn't to be.  
They've had a brilliant start to life in The Championship. They've got that Premier League experience and they added to that with the additions of Harry Winks and Connor Coady.  
Jamie Vardy has still got something in him. He struggled last year in the Premier League, but coming down to The Championship, he probably thinks that this could be his last season and he looks like he has that fire in him again.  
Enzo Maresca is a coach that I don't know that well, but he has a fantastic pedigree, and he has completely changed Leicester's style of play. He has introduced a very patient passing game as opposed to the counter-attacking style that saw the team looking to spring Vardy in behind defences. It has been a big tactical switch, but it looks like the Leicester lads have taken that onboard and are playing some really nice football.  
Out of the three clubs that were relegated to The Championship last season, Leicester are the team that look best placed to return to the Premier League. Who else do you expect to be challenging with them come the end of the season? 
I always rated Leeds United's chances of bouncing straight back to the Premier League. They've had a bit of a stuttering start, but they are warming up under Daniel Farke and showing signs that they will be competing towards the top end of the table this season. Going to Elland Road isn't going to be easy for any opponents. I think Leeds will definitely be in the promotion mix.  
Ipswich are up there at the moment. I know it is only early days, but it would be lovely to see them back in the top flight after so many years away.  
Tony Mowbray's Sunderland team could also compete for a spot at the top of the table too.  
The Championship is a marathon. It's a gruelling race and teams will have to have staying power to last the distance.  
Can Leicester go to Anfield and cause a bit of a surprise against Liverpool on Wednesday night? 
If Liverpool don't have their eye on the ball, then Leicester could cause an upset. Going back to a Premier League ground, Leicester will want to give a very good account of themselves and will have a real go at them.  
Liverpool will need to be on their toes. I think this will be quite an interesting tie.  
---
Lord Ping is an online casino with over 3000 online slots and live casino table games.
LORD PING, THE ONLINE CASINO FOR OPINIONATED PLAYERS!
Disclaimer: Opinion content is provided by experienced journalists and are not the views of Lord Ping