---
Speaking to Lord Ping, ex-Liverpool, Arsenal and England ace Pennant reveals Liverpool should sign Khephren Thuram, Fabinho is considered a 'troublemaker' by his sources close to Anfield and Arsenal should sign Ivan Toney. 
He believes Jordan Henderson has to do what's right for his family following criticism of his move to the Saudi Pro League but believes he should lose his England place. 
---
---
What formation should Mikel Arteta deploy to get the best from Declan Rice and Kai Havertz?
Kai Havertz was an interesting signing. He's not a number 9 who will score you 25 goals a season, so it was a weird one. His best position is a number 10, an attacking midfielder. I think he's better going forward than Granit Xhaka. 

Play Havertz as a number 10 and Odegaard as an 8 box-to-box, and then Rice not as a solid defensive midfielder like Thomas Partey, because he can also travel with the ball forward. 
Odegaard and Rice together with Rice sitting, then Havertz attacking. 
I don't think he'll start with Havertz though. I think Arteta will start with Partey, Rice and Odegaard. 
Is playing Kieran Tierney at left-back and pushing Zinchenko into midfield with Rice a serious option? 
Playing Tierney at left-back and pushing Zinchenko into a midfield role with Rice is an option, but I don't think it's first-choice for Arteta. But if things are going differently in a game it's an option, but Havertz and Rice have just got there and they need time to understand their teammates and the system. That takes time. 
Do you think anyone from this current Arsenal side could break into your Invincibles side?
Could anyone from this current Arsenal team break into the Invincibles? Patrick Vieira in the middle could do anything you needed to do, box-to-box, tackle, create and score. That position is tough to take. As a trainer he wasn't always on it, unless he was losing! He had an angry side when things weren't going his way, lashing out at someone if a decision went against him. He could just snap. 
Then you have the number 10 role with Dennis Bergkamp, no one is taking that. Thierry Henry, no one is taking that.  
So it's a fight for the wing, and maybe Bukayo Saka would get in. It's tight between Robert Pires and Gabriel Martinelli, that's a close one. I think Ray Parlour's getting booted out, I think Saka's taking that!  
No one is getting ahead of Ashley Cole at left-back. At right-back, Ben White maybe. At centre-back, again, with Sol Cambpbell, Kolo Toure, Martin Keown, you're probably looking at only three positions that are up for grabs. 
Football was much harder back then. 
---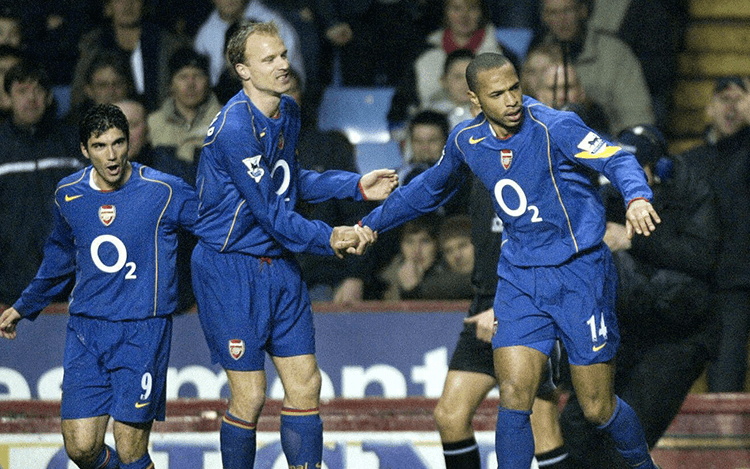 Deadly duo Henry and Berkamp 
---
Was Parlour good fun on a night out?
Parlour is still good fun on a night out now! Whenever you came in, half the time he was on the treatment table getting a massage. He'd only train three times in a week! 
You recently spoke about Ivan Toney being a good replacement for Harry Kane. But Arsenal need competition for Gabriel Jesus and Chelsea need a forward, would he work for them too?
I think Ivan Toney would be a good signing for any team including Arsenal, Chelsea and Spurs. He's proven to be the second best British striker we have behind Harry Kane, last season he was the third best striker in the league with his tally, he can score and create. He's been so important for Bradford, a mid table team and in a better team with more chances created, he'd score more goals.  
His work rate and creativity is excellent so I think he'd be a great addition for Arsenal if they were to bid for him. 
Is there anyone else you'd like to see in an Arsenal shirt? 
The midfield for Arsenal is sorted but I think they need a striker who can score 15 to 20 goals. If Martinelli is not having the season he did last season, Odegaard, Saka, if they are not all in double figures then where will it come from? 
I know Eddie Nketiah did a good job for Jesus but you need someone who is guaranteed goals in the box. 
But who's out there? You need a good scouting system to find that.
Would Kieran Tierney make a good signing for another top-six club?
Kieran Tierney could suit another top-six side depending on their style of play. If you just want a full-back who's going to be solid and a good defender, get forward now and then, not worrying about assists and goals then I think he'd be great for some teams.  
Liverpool's full backs are very creative, they chip in with 20 assists a season. Tierney is not that kind of player, he's a solid defender, that's why Arteta brings him on when they want to keep things tight.
In a market where Scott McTominay is valued at more than £40m, as is Conor Gallagher, how much do you think your transfer fee to Liverpool would have been in today's market?
If Nicholas Pepe can go for £72m, surely I can top that in today's market! Attacking players always get valued more than defenders, I'm English as well so that would be a premium. I'd say between £70m and £80m. I was an attacker, I could get behind players, my assists were high. I'd have suited a 4-3-3 too when I played in a 4-4-2, helping out the full-back.  
In a 4-3-3 you get more freedom so I'd have had more joy. If James Ward-Prowse is touted for £50m, I think I'd be worth more than that in today's market.

How about the best you played with including Henry, Steven Gerrard and Fernando Torres?
For Henry, Gerrard and Torres it's easily over £100m. You'd be talking Mbappe prices with Henry and he's better than Kane, who's value at around £120m so Henry would be worth a minimum of £150m in his prime.  
Rice has gone for £105m, Enzo Fernandes the same, and Vieira is better than both of them. So he'd be at least £120m, same with Gerrard. 
---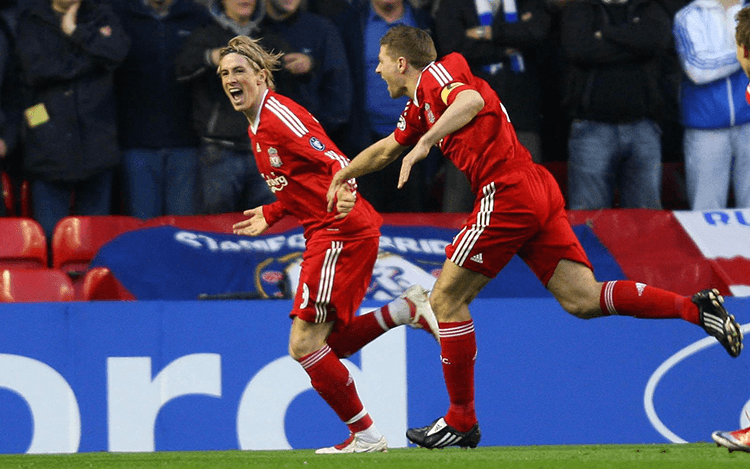 Unstoppable Torres and Gerrard
---
Julio Baptista recently said he thinks Neymar should be on Arsenal's radar. Do you agree with that? 
I disagree with Julio Baptista, I don't think Neymar would be a good signing for Arsenal. He's not cut out for the Premier League, it's demanding and far tougher than La Liga and Ligue 1. He won't find much joy, even though he's a great player. It would be too physical for him although it would be great to see him. 
And that's this era, in my era he'd have been injured ¾ of the time. 
At £72m, is Nichlolas Pepe the worst signing you can remember Arsenal making?
There have been some awful Arsenal signings down the years but because of the amount, how much he's played and the performances then you have to say Pepe is one of the worst signings. I remember we bought Igors Stepanovs, he was a terrible signing but he was free. 
If you're paying £72m you want something back, and it's been nil. Put those together and he's probably been one of Arsenal's worst-ever signings. 
Ex-Manchester City star Ferran Torres has been linked with Arsenal - is that a good signing?
Ferran Torres would suit the mould of what Arsenal are looking for, but he's not really lit up Barcelona. He didn't light it up for Manchester City so I think it's a massive gamble if you're looking for someone who's got a big pedigree behind him. With Torres, you know what you're getting.  
But there's no guarantee this guy is going to be any better than Jesus or score more goals so it's a risk. If you want to bolster your squad though, then why no? He's an international. But I don't think you're going to see Arsenal fans too excited, because he had his time in the Premier League and didn't cut it. 
With Jordan Henderson, who should take the armband at Liverpool?
I think Alisson or Virgil van Dijk should take the armband now. Along with Salah and Van Dijk, Alisson has been one of the most important signings Liverpool have made in the last five years, he seems like a leader.  
It's a rebuild situation. Trent-Alexander Arnold is too young to take the armband, so it's a choice between Van Dijk and Alisson. I think Van Dijk has had the armband before when Henderson has not been playing, so he understands it, so he's the most likely candidate. 
Henderson has been criticised by the LGBT community for his move to Saudi Arabia, after previously representing the Rainbow Laces campaign. Is that fair?
When you support something like LGBT and then go to a country at war with that, you are going to get criticism but at the end of the day, what's more important for Jordan Henderson, standing up for some rights or looking after yourself and family for generations to come? 
He's not going to get that offer anywhere else. He can still go over there and believe what he believes in, he's just working and getting unbelievable money. 
It's hard to turn down, but you open the door for criticism. Him saying I'm not going there because I believe in LGBT issues is not going to earn him more money. 
What do you think Gerrard and Jamie Carragher would have thought of a teammate leaving the club for more money, in your era?
I think Gerrard and Carragher would have been professional if a teammate like Henderson had left for more money. They would understand it's a dog eat dog business, there's no loyalty, players get sold just like that. 
If a top bid comes in the club are happy to sell so it goes both ways, if you're not doing well the club will happily get rid of you. 
I'm sure if it was Torres, they would be sitting him down to persuade him not to but would understand if he did. 
Do you think it will and should harm his England chances?
I think Henderson's move to Saudi will and should harm his England chances, hence why you don't see Championship teams in the side because they play in a weaker league. It's going to have top players but it's not a top league, it'll be equivalent to the Championship or League One.  
If you're not in a top league you won't get selected, unless you're Mbappe. But Henderson, it will definitely hamper his chances. It wasn't like he was a guaranteed starter anyway. 
He's put the numbers together and said he won't really start every week for Liverpool or England, let's take £700k a week. 
---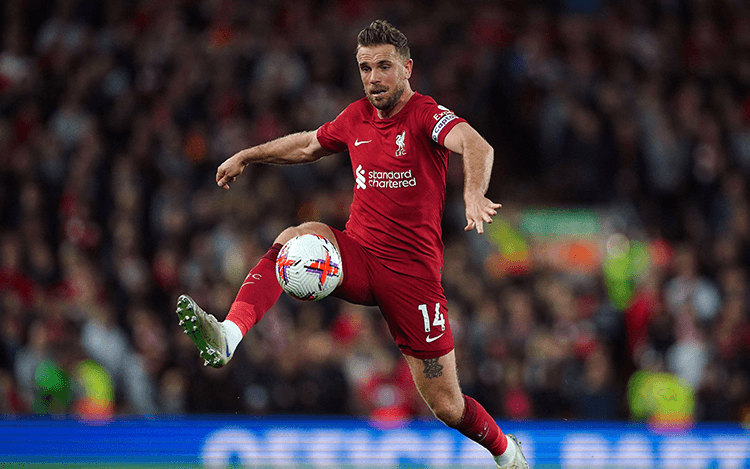 Henderson may have played his last game for England
---
Would it be a complete game-changer if Saudi PL sides were allowed to compete in the Champions League?
It would be difficult for Saudi PL sides to compete in the Premier League because it's a seven-hour flight, unlike in Europe where it's two hours. But with the money thrown about, something may come off in some way. But I don't think they'll get added anytime soon to the Champions League. 
You played with Gerrard, Xabi Alonso and Javier Mascherano. Would Henderson have got into that side?
Henderson would not have got into my side when we had Gerrard, Alonso and Mascherano. It's a straight no. Mascherano was a dog, a little bulldog running around and hassling everyone, good on the ball too. Then you have Alonso who could spray a ball like an artist, hip high. Then you had Gerrard who could do everything. 
Henderson is not technically gifted as a central midfielder, like a Thiago, with a range of pass. He's got a good engine, he can close down, but the midfielders I played with all had better attributes. 
Peter Crouch said there was one occasion where a £15m signing on day one was written off by Carragher and Gerrard. Can you remember who that was?
I can't recall who we bought for £15m, but Alvaro Arbeloa was slagged off by Gerrard and Carragher. 'He's s*** lad', they would say.  
Initially, Dirk Kuyt didn't win Gerrard and Carragher over, either. But then he started scoring goals and they warmed to him. He was a bit rusty at first, his touch wasn't great and they were like, 'what the f***?'.  
I think I was fine on my first day and game. We played Maccabi Haifa in the Champions League and I got MOTM. That Chelsea goal against Peter Cech didn't hurt either, and Ashley Cole my friend! 
With Torres, you looked at him and you didn't see flair and skill. He was about raw pace, strength and he could finish. Those are all the attributes you really need, and he was so quick. Not quicker than Henry though, he was so quick. I played with Michael Owen at Stoke City but I think his hamstrings had gone by then. 
If you had to predict the top-six of the Premier League now, what would it look like?
If I had to predict the Premier League table now, it would be: Manchester City, Liverpool, Man Utd, Arsenal, Newcastle and then Chelsea. 
I don't see Spurs getting into that, especially if Harry Kane goes. If he goes, that's it. If Richarlison is going to be your main number one, after scoring three, it is going to be difficult. 
I don't know why Spurs always leave it so late, pre-season is so important, getting to know the style of play rather than bedding them in game into the season. 
Fabinho's move to Saudi PL looks set to collapse. Do you think Liverpool should look to rediscover his old form, or should another top-six club pounce?
Fabinho's performances over the last two years suggest that either his legs have gone or he doesn't really want to be there anymore. Rumour has it that he's a troublemaker in the changing room, that's what I've heard from people close to the club. 
I've heard he's a bad egg. I don't know the ins and outs, but I hear he's a nuisance to management in terms of professionalism. In his performances and in training, he's not giving his all. You can see it.  
And his performances suggest he's on the cliff of his peak.  
Some players can go on for a long time, but his body and his style makes it look like he's not athletic. He's 29, he's one of the older 29-year-olds. He's not mobile or agile, so it looks like he's coming to the end of his prime. So £40m for him would be perfect. 
There's still hope it might go through and Liverpool can invest that in a younger, fitter and stronger player. 
Is there anyone else you'd like to see in a Liverpool shirt?
I'd like to see Liverpool sign Khephren Thuram, he plays for Nice and he's a box-to-box midfielder. I think he would be perfect, he's skillful and he can tackle too. He's like a young Gerrard, basically. He's a Jude Bellingham type player and he'd be your Fabinho replacement and he could play with Alexis Mac Allister. 
He could cover the whole of midfield like a better Henderson. 
 


Do you back Trent to play regularly in the midfield next season? 
I wouldn't be surprised if they don't sign a new midfielder and play Trent there regularly, we saw that last season. He started in midfield earlier in his career then moved to right-back. He knows the role, but he's also gained defensive knowledge. He has creativity and can defend. It's a perfect solution if they get a right-back. 
I would like that, it would be like a new signing. He can strike and look at his assists. It's a nice dilemma to have. 
 


You had a lot of coverage for the way you spoke on Dele Alli, detailing your own childhood traumas. Without football, what direction do you think your life would have gone in?
I came from a very rough and tough estate, there weren't many opportunities so I would have fallen into the mould of friends in the crime world, drugs and gang warfare. I'd have ended up following that mould.  
I wasn't amazing at school because of football, I concentrated on that. Without football it would have been a total opposite life with different experiences, and not for the better. 
 


Does football not get the credit it deserves for social mobility?
Wages are out of footballers' control, how much we earn, it's a business and we generate entertainment and revenue which pays you to do that. If you have a massive business and your employees bring in X, Y and Z, you're going to pay them well. 
It's out of our control. People may dislike it but it does help young people from tough backgrounds. The majority of footballers are from lower-class backgrounds. Anyone can play it, you don't need a rich family to get into it.  
I've never understood why actors and musicians don't get the same grief. Maybe because it's a lower class sport. You've come from nothing, and we don't like that. To be an actor you need a degree, this and that. Even in F1, look how much Lewis Hamilton gets per race with sponsors too. Same with NBA and NFL. There are so many sportsmen who earn more, so it is frustrating. 
 


You said in January that you took a dim view of reality TV after your own experiences. Would you urge footballers, Jack Grealish for example, to avoid it too?
I would urge footballers to stay away from reality TV. There's nothing good to come from it. Reality TV is all about controversy, they don't care if you look good or bad, it's all about entertainment value and production. If you're a footballer and that's your niche that you've worked your whole life for, then to go to reality TV kind of washes that out and taints it to a certain degree. 
Then trying to move on from reality TV is very difficult. You get a few who do well after, but 90% find themselves in a dark spiral just to keep relevant.  
I wouldn't say it's a life to live, nothing good can come from it.
Who was your dirtiest opponent?
Dirtiest opponent I faced was Ashley Cole. I hated playing against him, and not only because he was my friend. He was my toughest opponent. He'd pull you, pinch you, anything he could to put you off and he'd whisper in your ear. As soon as he crossed that line it was like he forget we were friends. 
Anyway, if he could get the better of me he would. He'd try and distract me by saying, 'are you coming out tonight? I've got this table booked'. So my focus is gone! Any tactic he could try, he would. He was horrible. 
---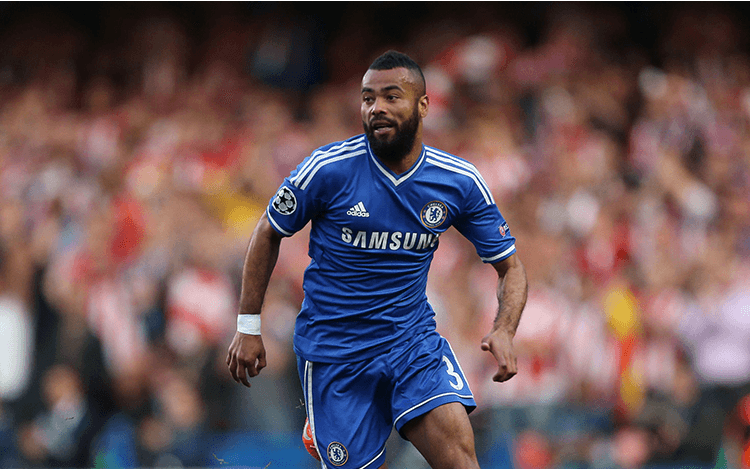 Pennant names Cole as the dirtiest player
---
What are you predicting from your old club, Stoke City?
I have good memories of Stoke City, it was fun. We got into Europe and there was the FA Cup final, good memories and a good fanbase.  
But once you go down into the Championship, you try and start the rebuild. In our era it was Tony Pulis, Peter Crouch, Kenwyn Jones and then Matthew Etherington and me on the wings. You had Ryan Shawcross. Now they've had to rebuild. But once you get in the Championship and players start leaving, it's so hard to get top players in and to get out of that league. 
It seems at the moment they are stuck. I think they will finish in the middle of the table. 
 


Do you back Leeds to bounce straight back up?
Leeds is a great city and it has a great club, I had great times there. They have the fundamentals to go straight back up. Seems they are keeping the majority of their star players, and it seems they are also making some signings too. 
Championship is always such a difficult league but they have the fundamentals and the players to get back up, so they should get promoted. The Elland Road atmosphere is great too, which will help them. They will be among the title favourites. 
 


What are the top-three atmospheres you have played in?
Anfield on a Champions League night is the best atmosphere I have played in, it is unreal. I remember when we played Chelsea in the semi-final and the noise was deafening. You could tell Chelsea players were impacted by it, you could see on their faces. It was like a 12th man when you had that roar. You had goosebumps.  
Elland Road, when they start singing Marching on Together. When they're winning, because it seems like it's so close, the atmosphere in there is unreal. 
And I think the old West Ham, that was horrible, the Chicken Run. It just felt like it was on your back. 
---
Lord Ping is an online casino with over 3000 online slots and live casino table games.
LORD PING, THE ONLINE CASINO FOR OPINIONATED PLAYERS!
Disclaimer: Opinion content is provided by experienced journalists and are not the views of Lord Ping