---
Play 'N Go, once again, brings players a highly remarkable slot game in the form of GEMiX online slot. If you are familiar with Play 'N Go and the other games they have developed, you may notice that the GEMiX takes elements from the other releases and packs it in this excellent slot game. Any player who has tried to load the game will surely be taken aback by the immense grid and the different aspects immediately seen on their screen. Learn more as we deep dive into the games design, mechanics and features in this GEMiX online slot review.
GEMiX Slot Details and Features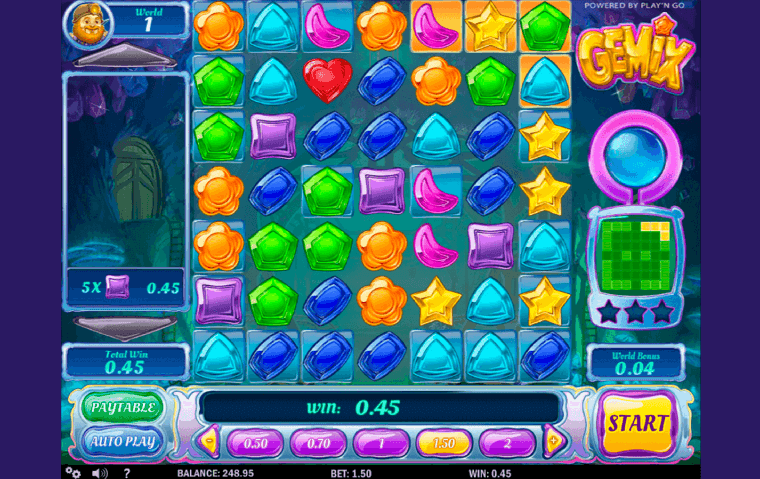 Play 'N Go decked out GEMiX online slot with a massive 7x7 grid which is not very common in the slot industry. And a massive play area can only translate to massive wins should you have the luck to back it up. The game has 7 reels and 7 rows with no paylines to follow. Let that sink in, no paylines to follow. Any 5 adjacent symbols on the reels is a win. Getting 15 or more gives out hefty wins. 
The gem theme is widely used in the slot industry and GEMiX has joined the mix. However, this slot game definitely sets itself apart from everyone else with its stunning graphics and action packed features. 
GEMiX casino slot is also a cascading type of online slot. Much like the famous mobile game Candy Crush, matching symbols in a cluster disappear and gems on top of those that disappeared move down to fill the spaces. After that, new gems cascade down from the top of the reels to, again, form matching combinations and this continues until there are no winning combinations.
Game Symbols 
GEMiX slot uk has 3 wild symbols with each opening a specific bonus feature. These come in the forms of a mining lamp, a lollipop and a spellbook. 
No playing card symbols on this game as all other symbols apart from the first 3 mentioned are all gems. The higher paying gems are in the shapes of stars, hearts, crescent moons and flowers. The lower paying symbols are composed of the more common geometric shapes - a pentagon, a square, a triangle and a rectangle.
RTP
The RTP for GEMiX slot machine is 96.83% with medium variance. This means players get payouts every now and then. Higher wins and other jackpots come less but definitely are worth waiting for.
How To Play GEMiX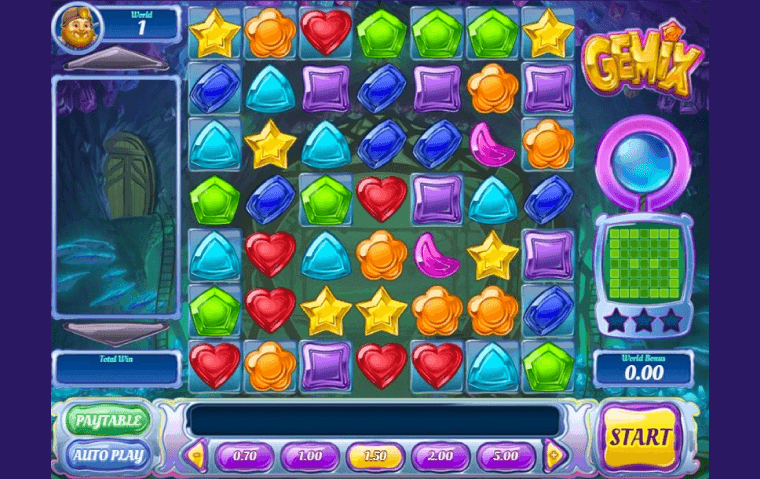 Features aside, GEMiX's base mechanics are easy to digest. As in most slots, players just have to set the desired bet. This can be done through the menu button on the lower right. Other information about the game can also be accessed inside the menu. When you're ready, click on the green Spin button to start. Since GEMiX is a cascading game, one spin is not like other normal slot games. Winning symbols are removed and replaced by new ones that cascade from the top so players do not spin as often.
GEMiX Slot Bonus Features
Crystal Charge Feature
This feature is always activated in GEMiX mobile slot. Every time a win is spun and symbols are removed from the grid, the Crystal Charge metre increases and when 20 symbols have been removed from a single spin, any of the following 4 sub-features take place:
Nova Blast - a gem explodes and the gems around it are destroyed
Crystal Warp - a chosen gem type will transform into a random gem
Light Beam - a beam from one symbol transforms other symbols on the reels
Chain Lightning - 2 gems in different corners form a chain, all gems in between are transformed in either of the 2
A 3x multiplier can also be awarded when a winning combination of 40 gems are formed.
Worlds Feature
Another GEMiX slot bonus is the presence of 3 different worlds. In these worlds, an active pattern is displayed on the screen which players need to clear by getting wins that follow the patterns provided. Clearing the patterns moves you to the next world and so on. The difference between these worlds are the wilds that come with them.
Miner's World - Up to 10 mining lamp wilds land randomly on the reels and replace the gems to form wins
Princess' World - One gem type around the edge of the grid is picked as a starting point which also turns into the lollipop wild. The wild spreads across the reels to form combinations until it reaches another of the gem type on the edges.
Wizard's World - 8 spellbook wilds appear randomly on the reels and stick until there are no winning combinations matched or until the Crystal Charge feature is triggered.
Play starts in the Miner's World.
Review Summary of GEMiX Online Slot 
Detailed in this GEMiX slot machine review, it is crystal clear why this game is one of the more popular ones out there. With a multitude of features and different game mechanics to keep you entertained, there will surely be no boring moments on GEMiX online slot for players on any level, whether new or slot seasoned. Play GEMiX slot at Lordping and find out why it is easily one if not the best slot game in the industry.