Released in 2021, Playtech's version of live dealer roulette is called Who Wants to Be a Millionaire Roulette. With a £1 minimum bet and a £5,000 maximum stake, it offers an impressive 97.29% RTP. Playtech's newest version of multiplier-based roulette is offered in this desktop and mobile game.
Right away, the Who Wants to Be a Millionaire Roulette casino game presents an intriguing idea. It sounds fascinating to combine a classic casino game with branded game show content to create multipliers and exciting features. But does the execution stand up to this assumption? Our Who Wants to Be a Millionaire Roulette review aims to find out just that. For more detailed how-to-play information you can check our our Who Wants to Be a Millionaire game page in our live casino games
Who Wants to be A Millionaire Roulette Game Details
| | | | |
| --- | --- | --- | --- |
| GAME NAME: | Who Wants to be A Millioinaire Roulette | BET RANGE: | £1.00 - £1,000 |
| GAME PROVIDER: | Evolution Gaming | SPECIAL BETS: | Yes |
| LIVE HOST: | Yes | SUPPORTED PLATFORMS: | Mobile Phone, Tablet, PC |
| RTP: | 95.73% | SUPPORTED OS: | Android, Apple, Windows |
Does the Who Wants to be A Millionaire Roulette Gameplay Live Up to the Iconic Game Show?
The thrilling live European roulette wheel game Who Wants to Be a Millionaire Roulette from Playtech incorporates aspects of the well-known TV game show of the same name.
This is an exciting and standout addition to Playtech Portfolio. Everything about the studio design is interesting and inventive, from the multipliers used to create a clear allusion to the TV programme. Given that Playtech, the company that brought us Quantum Roulette and Mega Fire Blaze Roulette is no stranger to live dealer roulette with bonuses and multipliers, this is hardly surprising.
But even in terms of pure inventiveness, Who Wants to Be a Millionaire Roulette distinguishes itself from the competition. For example, a roulette wheel that resembles Mega Fire Blaze Roulette greets you when you initially start the game. There is a host who spins the roulette wheel and engages with the players. Until its special function activates, the online roulette game does not resemble Who Wants to Be a Millionaire. That's when the studio changes to something that looks more like the TV show. Playtech's release cleverly positions the camera across from the host during the bonus giving you the impression that you are the one in the iconic hot seat.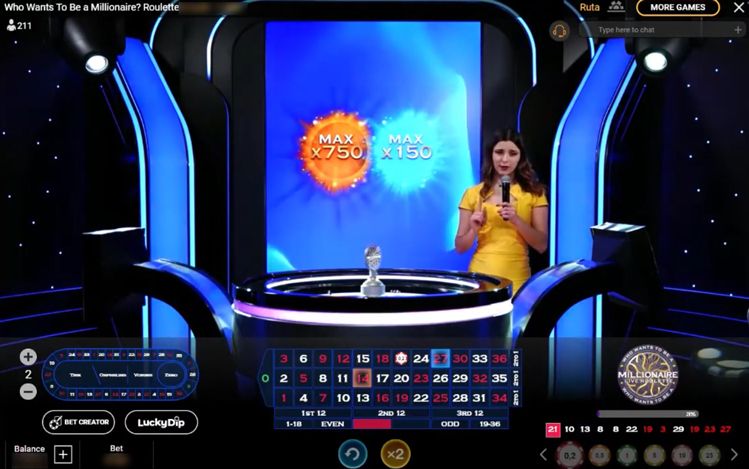 Do the Who Wants to be A Millionaire Roulette Features Enhance Gameplay?
As we alluded to earlier, the Who Wants to be a Millionaire Roulette game is bursting at the seams with features, some of which such as live chat, help sections, stats sections, and detailed settings come as standard in Playtech releases. While the game is hosted in English, players can configure the UI to multiple languages such as Czech, Dutch, English, French, German, Greek, Hungarian, Italian, Polish, Portuguese, Romanian, Spanish, Russian, Mandarin, and Slovak. Outside of this, the unique bonus features of the Who Wants to be a Millionaire Roulette game are as follows:
Millionaire Bonus
The Millionaire bonus round starts when you see the Millionaire logo. You are given four options: A, B, C, and D. This is how the quiz game usually works. It's up to you to determine which of them conceals the largest multiplier. This incentive comes in two varieties: Bronze and Gold. There are eight questions for bronze and ten for gold. Here's how the Millionaire Bonus works: 
You select one of four possibilities 8-10 times.
There is a hidden multiplier in every answer. The multiplier behind a question appears each time you respond to it. These continue to accumulate as long as there are inquiries. Recall that even multipliers are added, even if they are not the highest.
Subsequent questions contain an X symbol hidden in one of the responses. You have completed the bonus round if you correctly predict this option. You get paid and receive the multipliers that have accrued thus far.
When every level is finished or every participant leaves the game, the bonus round comes to a conclusion.
Moreover, three of the Who Wants to Be a Millionaire lifelines are present Every question has the potential to instantly activate live lifelines. 
50:50: Automatically eliminates the two choices with the lowest multipliers.
Ask the Audience: This technique shows a bar chart with the audience voting on the solution. then chooses the response with the most votes automatically. Crucially, this is a simulation of the well-known lifeline; there is no real audience present.

Ask the Host: Some of the lesser multipliers be removed. Fewer options are eliminated the higher the question level.
100x Multiplier
All that the 100x multiplier segment does is multiply your eligible bet by 100.
Question Mark Symbol
You have two alternatives when you see the question mark sign. You have the option of taking a guaranteed 50x multiplier or playing the Millionaire round, which has a top prize of 150x. Alternatively, a 100x guaranteed prize may be yours, or you may participate in the Millionaire round to win up to 300x in rewards.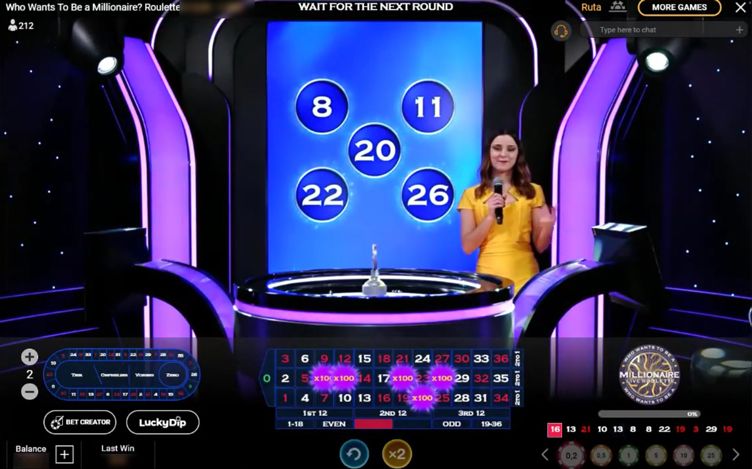 What Are the Who Wants to be A Millionaire Roulette Payouts?
The live casino game Who Wants to be a Millionaire Roulette has a paytable which differs greatly from what you may be accustomed to. To begin with, all bets that qualify for bonuses have base rewards that are lower than normal. On the other hand, they may have enormous multipliers if they are eligible for a bonus and succeed.
Crucially, the multiplier bonus is not awarded in full for wagers that cover several numbers. In essence, the bonus multiplier for Wants to Be a Millionaire Roulette is split by the total number of numbers that the wager covers.
Straight Up: Covers the complete multiplier
Split: Half of the multiplier
Street: One-third of the multiplier
Corner: A quarter of the Multiplier
Line: One-sixth of the Multiplier
However, all outside bets function normally and are not eligible for bonuses. 
Dozen/Column: Covers 12 numbers with a 2:1 payout 
Red/Black: Covers 18 numbers with a 1:1 payout 
Even/Odd: Covers 18 numbers with a 1:1 payout 
Low/High: Covers 18 numbers with a 1:1 payout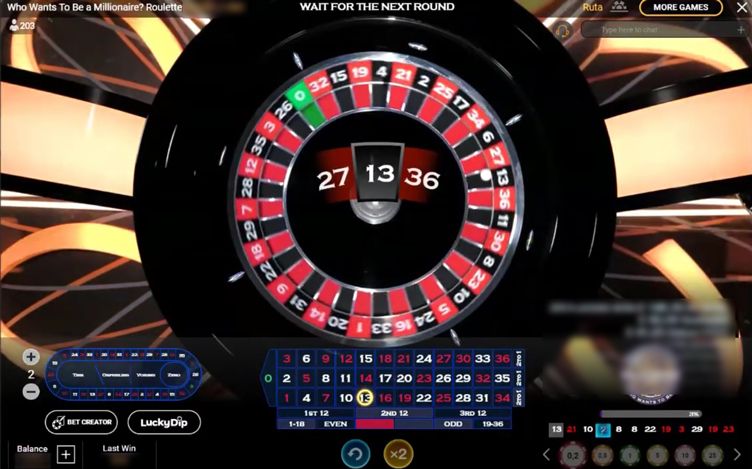 If you Like Who Wants to Be a Millionaire Roulette, Why Not Try…
At Lord Ping, you'll find plenty of Roulette-themed live casino games such as Lightning Roulette from Evolution Gaming which offers an innovative approach to roulette thanks to its random lightning multipliers. For an experience as close to a real-world experience as possible, you'll want to try Immersive Roulette from Evolution instead. Then there's Mega Roulette and Quantum Roulette, both from Pragmatic Play, both of which play around innovatively with multipliers. Lastly, for the fastest live roulette experience round, Evolution Gaming offers Instant Roulette. 
Play Who Wants to be A Millionaire Roulette on Lord Ping
Who Wants to be a Millionaire Roulette is one of the most innovative takes on the classic game of roulette that we've seen in recent years. To try out this game for yourself or any other of the live roulette games on our list, sign up and play today right here at Lord Ping.